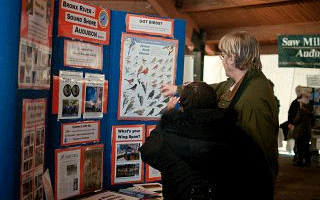 Winter adventures await at Teatown Lake Reservation. Check out January's events.
Wintering Waterfowl and Eagles
Saturday, January 11, 9:00 am
Meet leader, Charlie Roberto at the Croton River boat ramp (beyond the Croton RR station), to start this birding adventure on the river's edge and then caravan into Croton Point Park to continue searching for eagles and more. Following this walk, join us at noon for a free potluck soup lunch at the Croton Point Nature Center! RSVPs for lunch would help us prepare AND if you would like to contribute bread, beverages or dessert to the lunch, contact office@sawmillriveraudubon.org. Co-sponsored by Saw Mill River Audubon. All welcome!
Warm Up with Mammals
Sunday January 12, 11:00 am – noon

Come out of the cold and warm up as we see how mammals cope in with winter's frosty temperatures. All welcome. Free for members, $5 for non-­‐members. Programs require pre-­‐ registration. To register, call 914‐762‐2912 x110
Treasures from the Attic
Saturday, January 18, 1:00 – 2:00pm
The Teatown attic has many natural history treasures; taxidermy mounts, rocks, seashells, bones and furs that seldom get seen. We'll bring down a treasure chest of finds to investigate and identify. Participants are welcome to bring in their own natural finds to share. All welcome. Free for members, $5 for non-­‐members. Programs require pre-­‐registration. To register, call 914-­‐762-­‐2912 x110
Snow and Go!
Sunday January 19, 10:00 am – 12:00 am
Take to the hills on snowshoes with a Teatown educator. Limited to 10 participants. Adults only. Free for members, $5 for non-­‐members. Programs require pre-­‐registration. To register, call 914-­762-­2912 x110
It's a Hoot!
Saturday, January 25, 10:00 am – 11:30 am
What comes out of an owl can be a revelatory experience! Meet one of Teatown's owls and dissect an owl pellet to find what is hidden inside. Families with children over 6 years old. Free for members, $5 for non-­‐members. Programs require pre-­‐registration. To register, call 914-­762-­
2912 x110
Tracks and Scats
Sunday, January 26, 1:00 pm – 2:00 pm
Animal tracks and droppings offer a fascinating glimpse into an animal's ecology and behavior. We'll hike to discover what's been happening in the woods and return to the nature center to match scat and tracks. All Welcome. Free for members, $5 for non-­‐members. Programs require pre-­‐registration. To register, call 914-­‐762-­‐2912 x110
1600 Spring Valley Road, Ossining, NY 10562
914-762-2912 x 110
www.teatown.org