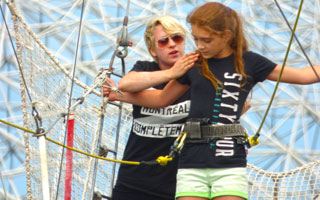 Carlo Pellegrini did not run away from home to join the circus because he was trying to escape reality. He joined because he believed in something which was larger than himself. Joining meant becoming part of a family that fashioned their whole lives on the belief that "anything was possible."
To Carlo, the circus was the most poetic expression of human life.  From Royal Lichtenstein Circus in the 70s all the way to Big Apple Circus in the 80s, Carlo inspired thousands of audiences as Ringmaster, Clown, Juggler, and Acrobat. Today, you may see him walking (or performing) on the streets of Tarrytown and Sleepy Hollow with his partner in circus and in life, Hilary Sweeney.  Hilary, an aerialist, "took to the sky" 14 years ago with the same dream to inspire hope and a sense of magic in her audiences.  When Carlo and Hilary met, they decided that the circus was a force that needed to be shared with their home community.  So, in 2008 they formed Westchester Circus Arts — a year-round recreational and pre-professional circus school – the only one of its kind in Westchester County.  For the past three years, Carlo, Hilary, and their talented team of circus performers have taught over 500 students the aerial arts, tightwire, juggling, clowning, and more. And it doesn't stop there.  This August, they are debuting another dream – a flying trapeze school, right here in Sleepy Hollow.
If you've ever dreamed of flying, this is your chance.  And "yes, you can do it," say Hilary and Carlo. No matter what your age or ability, their instructors will guide you safely through the experience.  They urge you to try something new, face your fears, and you will grow.  No matter what your age or life situation, we all need to dream – and more importantly, we need a chance to turn dreams into realities.  And what better way to do so than in the comfort and security of expert instructors who have flown more than half their lives.
Bringing a trapeze school to Sleepy Hollow is no small feat.  Without the progressive leadership of the Village of Sleepy Hollow and Edge-on-Hudson, it would not be possible.  Carlo and Hilary deliberately chose Tarrytown/Sleepy Hollow as their home for operations because it is a Village that says yes to the arts.  Westchester Circus Arts is kept alive by this vibrant, tight-knit community that continually unites to support local business.  The circus has a symbiotic relationship with the Village and it has been shaped by the unique talents, personalities and diversity of its members. 
If you would like to participate in trapeze classes this summer, classes are running Aug 3-Aug 16 at Edge-on-Hudson (199 Beekman Avenue).
For class schedule and info, call (914) 275-5711 or visit westchestercircusarts.com