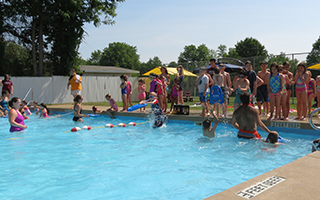 If your summer plans include a trip to a beach or pool, County Executive Robert P. Astorino and Health Commissioner Sherlita Amler, MD have some advice to keep you safe.  "County pools and beaches are open for the season and we have worked hard to ensure that our resident's safety is first priority," Astorino said. "Never swim in areas that are marked closed and it's always good to remind children to swim near lifeguards." Those who want a more private pool experience, you may start getting in touch with fiberglass pool installation contractors.
When you are in the water keeping cool, it's easy for both adults and children to forget the need to stay hydrated and protect your skin from the effects of the summer sun.
"Be sure you and your family drink lots of water throughout the day at the pool or shore to avoid heat exhaustion," said Sherlita Amler, MD, Commissioner of Health. "Wear a hat and sunglasses, avoid the midday sun and reapply sunscreen with a sun protection factor of at least 15 every two hours, especially after you swim or sweat, to avoid sunburn."
Dr. Amler had additional water safety advice for parents.
"It's also critical never to leave a baby alone in water even for a second, and don't leave children unattended in a pool or at the shore," Amler said. "Pool floats, inner tubes and noodles are no substitute for close supervision. Swimming and alcohol, just like boating and alcohol, don't mix. To avoid tragedy, make sure young children and teenagers know not to sneak into closed pools or lakes, and to swim only where and when there are lifeguards or adults watching them without any distractions."
Last year in the United States, between Memorial Day and Labor Day, at least 202 children between 1 and 14 years of age drowned in a pool or spa, according to media reports cited by poolsafely.gov. New York State had 11 drowning incidents in 2013, making it the state with the fifth highest count.  Drowning is the leading cause of unintentional death among children ages 1 to 4 and is the second leading cause of death for children ages 5 to 14.
African American children between the ages of 5 and 19 are six times more likely to drown in pools than white and Hispanic children that age, according to the Centers for Disease Control and Prevention. Data from USA Swimming indicate that 70 percent of African American children, 60 percent of Hispanic children, and 40 percent of white children cannot swim.  Children who cannot swim are more likely to drown.
Follow these tips to stay safe around pools and beaches this summer:
Learn how to swim and teach your child how to swim.
Never leave a child unattended in or near the water and always watch your children closely around all bodies of water.
Designate a water watcher to supervise children in the pool, spa or at the shore. This person should not be reading, texting, using a smart phone, or otherwise distracted.
Learn how to perform CPR on children and adults.
Keep children away from pool drains, pipes, and other openings to avoid entrapments.
Ensure any pool and spa you use has drain covers that comply with federal safety standards, and, if you do not know, ask your pool service provider about safe drain covers.
At the beach, never fight currents; swim parallel to shore and at an angle if you find yourself in a rip current.
For more health and safety tips, visit www.westchestergov.com/health and www.westchestergov.com; Like us on Facebook at wchealthdept or follow us on Twitter at wchealthdept.