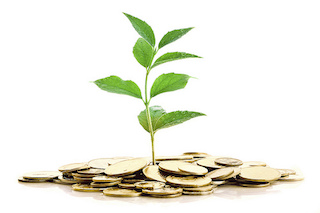 For an increasing number of investors, investing is not just about selecting opportunities that do well in their portfolio. It's about owning investments that also make a positive social impact. Sustainable investing is a growing niche of investment practices designed to help investors achieve both objectives. If you are curious about how to align your values with your portfolio, read on.
Strong upside potential
Compared to traditional investing, sustainable investing takes a different philosophical approach to the marketplace. The concept of sustainability is rooted in the belief that in order to thrive businesses must make responsible choices regarding the environment, society and their business operations. Similarly, ignoring these areas may eventually have the potential to negatively impact a business' bottom line. Those who agree with this approach believe that sustainable investing offers reasonable potential for growth and profitability. You may read more about investing in growth stocks to understand it before making an investment.
To effectively evaluate the choices companies are making, investors focused on sustainability are calling for increased transparency from executives about their priorities and how they conduct business. In response, more companies are creating sustainability initiatives, engaging with the community on societal topics, and promoting their accomplishments to attract investors.
Sustainable investing is personal
Investing with a social conscience can take a variety of approaches, allowing you to determine the ideal strategy for your beliefs and financial situation. A wealth manager can provide advice on how to structure your finances in a way that minimizes your tax liability. This is especially important if you own your own business or have multiple income streams, more info here. Some common strategies include investing in companies that:
• Promote causes – Firms that prioritize sustainable practices as part of their growth strategy may be attractive to investors. Examples include firms reducing their carbon emissions, partnering with charities or promoting the welfare of children or animals.
• Pursue solutions to a long-term societal issue – Investors may want to support companies researching or innovating ways to solve problems. Cancer research, driverless cars, or educating consumers on a key issue are several examples.
• Operate responsibly – Companies that demonstrate accountability to high ethical standards may also be of interest to investors. Relevant topics may include fair employment practices for women, valuing diversity, or engaging ethically with vendors in a company's supply chain.
• Avoid activities you find detrimental to society – This "negative screening" process may include staying away from firms that don't share your values or have a harmful impact on society or the environment. Examples may include alcohol, fast food, tobacco or gambling stocks.
As sustainable investing continues to gain traction among firms and investors, watch for more opportunities to customize your investments according to your preferences. If this investing approach interests you, talk to your financial advisor to learn more about how you can align your investments for growth and for good, you can also click here if you have plans on setting up gold individual retirement accounts (IRAs).
(Geri Eisenman Pell, CFP®, MBA, CDFA™, is a Private Wealth Advisor and CEO of Pell Wealth Partners private wealth advisory practice of Ameriprise Financial Services, Inc.) in Rye Brook, New York.(City, State).  She specializes in fee-based financial planning and asset management strategies and has been in practice for 31 years. To contact her, visit pellwealthpartners.com or call 914.253.8800. Pell Wealth Partners is located at 800 Westchester Avenue, Suite 300, Rye Brook, New York 10573.
Investment advisory products and services are made available through Ameriprise Financial Services, Inc., a registered investment adviser.
Ameriprise Financial Services, Inc. Member FINRA and SIPC.  © 2018 Ameriprise Financial, Inc. All rights reserved.