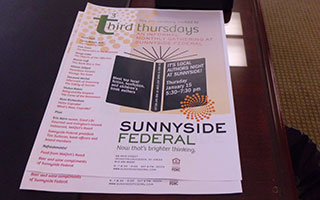 Since its renaming from Dearman Village to Irvington in 1854 to honor America's first great literary talent, this small village has a long history of penmanship. This past Thursday, January 15th, a great time was had by all at Local Authors Night at Sunnyside Federal.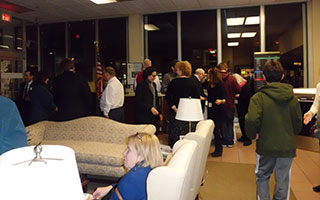 Authors in attendance were Carrie Barron M. D., Fran Claro, Sonya Cobb, Marcie Cuff, Allison Gilbert, DeLauné Michel, Staton Rabin and Alan Richardson. While Ms. Cobb is a resident of Dobb's Ferry, the other six all reside in Irvington. All the authors did a reading and the audience was spellbound by the varied subjects.
Third Thursdays at Sunnyside were started in September of last year as a way to bring various constituencies (PTSA moms, commuting executives, business owners, local elected officials, etc.) to the literal center of Main St. where the bank is located.
Refreshments were supplied by Wolfert's Roost, Irvington's newest restaurant. To bring the theme of the evening full circle, Wolfert's Roost also happens to be the name of the original estate purchased by Washington Irving, now named Sunnyside.
Third Thursday's are held every month at Sunnyside Federal at 56 Main St in Irvington stop on in. For more information about Sunnyside Federal visit www.sunnysidefederal.com