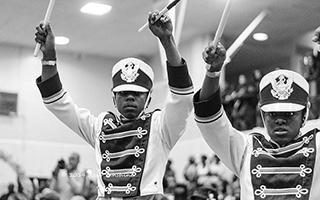 The buzz around the Academy Awards is a trending topic, but especially in Dobbs Ferry, as St. Christopher's, Inc. celebrates the multi-Oscar win for Birdman, the movie from which their marching band was featured.  Birdman won four Oscars, including Best Picture.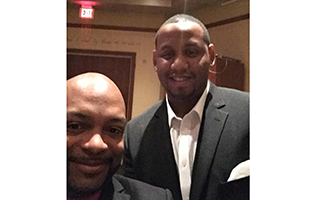 To add to the excitement, Marching Cobras Band Director Terrel Stowers and Assistant Director Kevin Young were able to attend the Academy Awards at the Dolby Theatre in Los Angeles and had a first-hand experience of the event.
"It was great to be there, and now we've taken the program and organization to a new height. Now, we're part of movie history," Stowers said. "I was able to shake hands with Michael Keaton and Director Alejandro Inarritu. And I was able to talk to people in the industry about St. Christopher's and the Marching Cobras. They were so excited to know that we had a part in the Oscar-winning movie."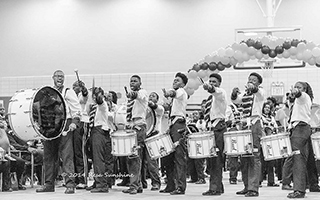 Birdman, starring Michael Keaton, received an Oscar for Best Director and Best Picture, as well as Best Cinematography. Director Alejandro G. Inarritu also received an Oscar for Original Screenplay. The Marching Cobras of New York, a band comprised of at-risk adolescents with a major contingent from St. Christopher's, provide the back drop for the acclaimed film's final scene. They are shown participating in the pre-Super Bowl parade last February. Members of the film crew saw the band performing and took the opportunity to capture them in action at Times Square.
"As I sat in the Dolby Theatre and the movie starting winning awards, I was just thinking, 'oh, my God; this is big for us.' I started getting tons of text messages telling us congratulations," Stowers said. "People were clapping, standing up and yelling with excitement. It was so great to be in that moment."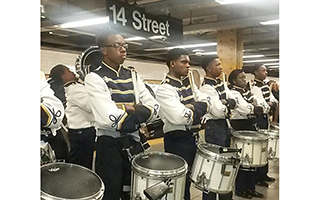 Obtaining tickets for Stowers and Young to attend the ceremony wasn't an easy process, but through a collective team effort, St. Christopher's was able to secure the once-in-a-lifetime opportunity for the two to attend the Academy Awards.
"The tickets were almost impossible to obtain as they were earmarked for other executives. But, once we shared the St. Christopher story, the rest was history," St. Christopher CEO Dr. Robert Maher said. In addition, the Briarcliff Manor Rotary Club along with its president Eric Lebenson, helped to fund the flight to Los Angeles and hotel stay for Stowers and Young.
Stowers explained what it felt like to be at the Academy Awards, from the red carpet, to the pre-Oscar cocktail events, the actual ceremony, and the Governor's Ball.
"The entire event was a once in a lifetime experience. It was pretty awesome," Stowers said. "It was really interesting because you were able to see things that you don't normally see when watching the Oscars on television. On the red carpet, we saw celebrities like Kevin Hart and Oprah Winfrey who were only a foot away. During the Governor's Ball, we took photographs of Jay-Z and Beyonce, and Beyonce's sister Solange Knowles, who was the DJ. All of it was wonderful."
Maher added: "We are so happy they were able to be there to represent St. Christopher's and the Marching Cobras band. The staff and kids are so ecstatic that they were part of such a memorable moment in history."
The band can be seen in the Birdman trailer at the 2:11 mark. https://www.youtube.com/watch?v=uJfLoE6hanc
St. Christopher's, Inc.
St. Christopher's, Inc. is an innovative adolescent development organization dedicated to helping children with special needs and their families by delivering a seamless continuum of care. We provide quality education; therapeutic intervention and life planning skills in a safe and nurturing environment with the goal of helping each child reach his/her full potential. For more information visit www.sc1881.com.