On Sunday December 4th, join soprano Briana Sakamoto, pianist Pej Reitz, bassoonist Devon Tipp, flutist Elyse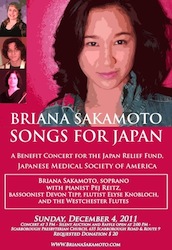 Knobloch and the Northern Westchester Flutes for an afternoon of music. The program features Bellini, Rossini, Martin, Strauss, Toldrà, Guridi, Turina, Japanese folk songs, Weber's Andante and Rondo for bassoon, and pieces for flute choir.
Generous donations include works of international photojournalist John Isaac, artists Lucia Motta-Silva, Dorothy Lorenze,  Nancy Beard, Kristi Yamaguchi and Newberry award winner Jean Criaghead George, a private tour for 6 of Kykuit by Curator Cynthia Bronson Altman, speciality cake by Jessica Manfro of "All Things Creative", Lifted Heart Healing Arts (acupuncture), Balance Body Work (massage), Kathy Cunningham (CPT) Denise Weber, (CPT) Ted Krowl FDNY, Petticoat Lane in Chappaqua, Dodd's Liquor City, Drug Marts, NYNT Beauty Salon, Sunset Cove Restaurant, Mt Kisco Seafood, Kira Sushi, Aurora gift shop in Chappaqua, A&S Deli, Rocky's Deli, Gail Patricks Café, Prestige car wash, Chappaqua Village Market, Healthy Choice Apothecary in Chappaqua, and Janniello's Specialty Foods in Briarcliff Manor.
All proceeds will go to the JMSA, which has created a program to establish a long-term network of support for mental health relief in an area of Japan near the center of the crisis.  The President and VP of the JMSA will be at our concert to tell guests about this important project.
The current statistics are that over 23,000 people are reported dead or missing; 90,000 people are homeless or displaced from their homes. The nuclear threat is ongoing. The effects of the earthquake/tsunami/nuclear crisis were felt as far as Alaska and California and chipped off portions of the Ice Shelf in Antarctica.  This is truly an ongoing global disaster.  If you cannot attend, the JMSA can take donations directly at their website  www.jmsa.org
For more information visit the Benefit website: http://songsforjapanbenefit.weebly.com/
Concert Information
The Concert will be held Sunday, December 4, 2011 at the Scarborough Presbyterian Church. The suggested Donation is $20.
Doors/Raffle/Silent auction will open at 2pm, followed by the Concert at 3pm. Raffle and Auction winners will be announced at the reception which follows the concert.