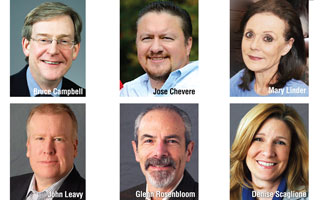 March 6 is the last day to register for the Sleepy Hollow Village election to be held on March 18, according to the Westchester Board of Elections calendar. River Journal recently interviewed the Sleepy Hollow candidates running for the Board of Trustees. 
Bruce Campbell is a 25-year resident of, and currently lives in, Sleepy Hollow Manor. A graduate of Syracuse University, he is a film teacher and former TV News producer for Fox News and CBS, where he won two Emmy Awards. While at CBS Bruce was an officer in the Writer's Guild of America. He has also served as the Chief Negotiator for his teachers' union. Bruce has been active in the AYSO soccer program and as a Board member of the Tarrytown YMCA. He is married with a daughter who graduated from Sleepy Hollow High School.
Bruce was first elected to the Board of Trustees in 2009 and has been re-elected twice. On running for trustee in 2015, Bruce stated, "I decided to run for re-election for two reasons: first, I am in the middle of some Village projects that I think are important and that I would like to continue working on. These include working with the GM developer, the County and Scenic Hudson to ensure there is quality open space and parkland in the development, including upgrades to Kingsland Park and the Riverwalk. I am a big believer in shared services and am working with Tarrytown on a possible merger of our Parks and Recreation Departments. In addition, I am working on finding a model that will make our Ambulance Corps sustainable into the future. My second reason for running for re-election is because we only have one shot at making this new development work for the Village. With my experience as a Trustee I am equipped and prepared to make this happen. It is an exciting time for Sleepy Hollow. I can help prepare the Village for the transformation to come."
Bruce would like to solve some of the problems that will come with the new Lighthouse Landing development. He asks, "What exactly will happen on the "east parcel" which is being deeded to the Village? How will we deal with the traffic and parking issues that will arise? How can we capitalize on the development to revitalize our downtown and Beekman Avenue?" He added, "These and other issues must be addressed immediately if the Village is to smoothly absorb the development. Related to this are the questions of a sufficient water supply  – there are plans for a new Village reservoir; but after years of work they are still not finalized – and repairs to our aging infrastructure.
"I am perhaps most proud of my work reviving our Halloween celebration. I helped turn an event, that had lost money every year and was on the verge of being discontinued, into a top tourist attraction. Visitors now flock to our Village to the delight of our restaurants and businesses. The challenge now is to turn the Sleepy Hollow brand into a year-round attraction."
Bruce acknowledges additional concerns. "Certainly, seeing the Lighthouse Landing development on the GM site through to completion and woven into the fabric of the community is the biggest challenge." He added, "There are others: the Village suffers from a lack of oversight; our overtime costs are spiraling out of sight;  and there is little accountability throughout the government. We need a hands-on Mayor and a committed Board. I've proven my dedication to the Village and when I retire in June I will have more time to help address our problems."
When asked about future Board appointments, Bruce commented, "It's unclear exactly what appointments will be made. The Mayor has not been forthcoming with this information. It is clear that positions on some Commissions and Boards have gone unfilled for years. The Mayor has not reconstituted the Waterfront Advisory Commission, important in the development of our waterfront. This and other groups need to be fully manned and fully functioning if the Village is to run smoothly and take advantage of the talent in our community."
Jose Chevere, a 40-year resident of Sleepy Hollow, is married with two children. Jose has served on numerous local and county boards including having served as a former Trustee (when Sleepy Hollow was named North Tarrytown) from 1996-1998. A member of the Hispanic Democrats of Westchester, Board member of Phelps Hospital and Board member of the Rock of Salvation Church, Jose has been employed with the Westchester County Department of Corrections for over 25 years and is a retired military serviceman, having served three deployments with the Air Force in both Iraq and Afghanistan.
Elaborating on his reason to run now, Jose said, "Now that the former GM property is back on the Village tax rolls, its development appears to be more of a reality than ever before. I believe this is a great time to improve our downtown district and improve the quality-of-life issues in our Village."
If elected, Jose stated, "Some of the goals that I hope to accomplish are to take a good look at redundant services that our neighboring Village (Tarrytown) provides for their residents and see where we can mutually deliver services and reduce the cost to our residents while providing the same level of services." He added, "I'd like to begin to see how we can partner with the Chamber of Commerce to attract useful and wanted businesses to Beekman Avenue and bring people to shop and socialize in our downtown."
Jose commented, "One of the biggest issues that Sleepy Hollow faces is preparing for the development of the former GM Property. I believe that Village government should be ready for these challenges (infrastructure, impact to our services such as police and fire protection, and traffic). It is important that the Mayor and the Board of Trustees have the foresight to see and prepare for these challenges, by having the proper committees to address issues."
Mary Carroll Linder is a 7-year resident of Philipse Manor. As a corporate executive, she headed up brand strategy, corporate communications and crisis management departments for several Fortune 100 companies. Mary has been a Board member of the Ordway Theater, the Minneapolis Institute of the Arts and Twin Cities Public Television. She is a member of the Philipse Manor Improvement Association, the Philips Manor Garden Club and the Hudson Valley Writers Center. Mary is an active volunteer with Literacy Volunteers of Tarrytown as an ESL tutor, and the Church of the Magdalene in Pocantico Hills as a CCD teacher. She is an
active member of the Kingsland Park committee, working with Bruce Campbell and Scenic Hudson.
Mary's affinity for Sleepy Hollow was one reason cited for her decision to run for Trustee. " She stated, "I love Sleepy Hollow. We bought a home here several years ago when we moved back to New York. We wanted to live in someplace beautiful that had a great community." In addition, Mary is confident that her business experience in project management and brand marketing will be useful assets as a trustee. She noted, "I can discover what residents want and bring it back to the Board. The recent sale of Lighthouse Landing has so many moving parts and my participation will be helpful."
If elected, Mary feels that the revitalization of downtown is an important issue and that her project management, business experience and listening skills would provide an advantage as a member of the Sleepy Hollow Board of Trustees.
John Leavy has been a resident of Sleepy Hollow since 2001, first living in Sleepy Hollow Manor then moving to Philipse Manor in 2003. He and his wife, Jennifer, have two children, a freshman and junior, both attending Sleepy Hollow High School.
John was raised in Queens, NY and graduated from the Rochester Institute of Technology with a BS degree. John worked in commercial photography as both a photographer and a production manager in NYC and on Long Island.
In 1994 John had the opportunity to become a New York City Firefighter. He was assigned to a firehouse in Brooklyn and was promoted to Lieutenant in 2002. John put his newfound responsibility as a Lieutenant to use in the Bronx, responsible for the safety and welfare of the firefighters he commanded. He received extensive Hazardous Material training in the last few years with the fire department as he finished his career in Special Operations in Manhattan. John retired from the New York City Fire Department in June 2014 after twenty years of service. He continues to be active with his union, the Uniformed Fire Officers Association, in political action and fighting for the rights of Firefighters injured as a result of exposures from WTC on September 11, 2001.
John is an active volunteer in the community. He is involved in fundraising to support the arts in our schools and the Western Connecticut Youth Orchestra of which both of his children are members. John is currently the Treasurer of the Philips Manor Beach Club. This year he will move to the role of VP of Beach operations, managing 20 lifeguards.
John wants to be able to get things done and make Sleepy Hollow a place where his kids will want to remain and live. He has a desire to bring common sense back to the Board. He is excited to be running with Ken Wray on the ballot for the Unite Sleepy Hollow Party line. John noted, "Political affiliation has little meaning in a small town when everyone is working together for the benefit of all residents."
John wants to accomplish being on a Board that makes decisions that move things forward. "It's a great time to be a Trustee," he said. If elected, John believes that issues will be discussed resulting in workable decisions. He has worked in environments where jobs were done that were dependent on each other. He understands and believes in the need to work together to solve problems.
Regarding major issues for Sleepy Hollow, John states, "Staffing the police force is a priority for residents of Sleepy Hollow. Hiring more officers is a big issue to ensure that they are operating at a safe level for everyone." In addition, he said, "Parking is a key issue for business owners along Beekman Avenue. It's important to make sure ample parking is available for shoppers so they can take advantage of the local businesses there."
John felt that voting to appoint Greg Lobatto to the Sleepy Hollow Police Force "was a slam-dunk hire." He didn't feel that questions were answered regarding the Board's majority decision in that matter. He maintains that the Board needs to work together, and regarding his role if elected, "I have 20 years in emergency response. There will be a need for new trucks and equipment with the development of Lighthouse Landing. I can be called on to know and understand the terminology. As a 12-year lieutenant in the New York City Fire department, John is adept at handling personnel issues. John is law-enforcement friendly and understands what they go through. "With [issues of] drugs, crime and speeding, I want to help give the police force what they need."
Glenn Rosenbloom has been a Sleepy Hollow resident since 1990, raising his children here with his wife Janice Ditchek. He was elected Trustee in March 2013. During his first term on the Village Board, Glenn served on the GM Negotiating Committee and as Chair of the Parks and Recreation Department where he worked closely with Tarrytown to develop a plan for shared services.  Through a major grant from NY State that Glenn helped to secure, Sykes Park will be extensively renovated. This capital project, which will include a new, fully accessible comfort station, is long overdue for the popular park. Glenn was also instrumental in driving Sleepy Hollow's first tax lien sale in nearly two decades, netting the Village hundreds of thousands of dollars in revenue.
Glenn has extensive management experience in the media and communications industry. He spent fifteen years at the Walt Disney Company where he served as Senior Vice President, Group Publisher of Consumer Magazines. He also led ESPN's High School Sports Group as Vice President and General Manager. Glenn has been a youth sports coach in the community for nearly 20 years.  Prior to becoming a Trustee, Glenn served on the Sleepy Hollow Planning Board and was appointed Chairman in 2012.
Glenn is proud to be running for re-election on the Unite Sleepy Hollow ticket and points out that, "Sleepy Hollow deserves the best public servants regardless of national political party affiliation. On the Board's decision last year not to hire a local resident as police officer, Glenn commented, "We had a great candidate who grew up in Sleepy Hollow and who was highly recommended by our police chief, scored high on the civil service exam, and was a decorated US marine. Unfortunately, the majority of the Board, some of whom had never met the candidate, voted against his hiring, which I feel was a loss for the Village."
Regarding the recent sale of the former GM property, Glenn stated, "Lighthouse Landing represents an incredible opportunity to improve the future of Sleepy Hollow for all of our residents and business owners.  It's an exciting project that will provide a significant revenue stream for the Village and our school district."
If re-elected, Glenn would like to help attract new developers to further revitalize the downtown district of the Village, invest in badly needed infrastructure improvements, find new ways to share services with neighboring villages and reduce the tax burden on residents.
Denise Scaglione hails from Westchester, graduating from Alexander Hamilton High School in Elmsford and from Concordia College in Bronxville where she received her BA in Business Administration. She and her husband moved to Webber Park in 1999 and now live in Philipse Manor. They have two sons, one a freshman at Sleepy Hollow High School and the other in 5th Grade at Washington Irving. Denise is currently the Office Manager at Scarborough Presbyterian Children's Center. She is also extremely active in the Sleepy Hollow community. She serves as VP of Membership for the Philipse Manor Beach Club, volunteered with the EPTA of the Tarrytowns, and works with both Wolfpack Youth Football and CYO. Denise is a Eucharistic Minister at the Church of the Magdalene.
Approached by a current Board member to run for trustee in the next election, Denise's interest grew after observing the current Board's majority decision to reject hiring a qualified police officer for unspecified reasons last year. Scaglione felt that the "No" vote was not in best interest of the Village.
Denise would like to see decisions made with a common sense approach. She states, "As a trustee, issues should be given thought and points of views listened to." Denise is also interested in parks and recreation and would focus on involvement with new parkland in Sleepy Hollow for residents to enjoy, i.e., tennis courts and safe, updated ball fields. On major issues facing Sleepy Hollow residents, Denise commented, "Cohesiveness on the Board is currently lacking and the Unite Sleepy Hollow slate of candidates will work well together for the benefit of the residents."
March 6 is the last day to register for the Sleepy Hollow Village election to be held on March 18, according to the Westchester Board of Elections calendar. As a voter, you have a chance to decide who is best qualified to make decisions that will affect your community for several years to come. Ultimately, the voter gets to decide what's best for Sleepy Hollow by choosing candidates dedicated to making the community the best place to live