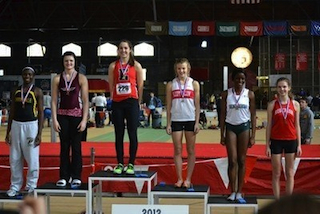 Congratulations to Sleepy Hollow High School Track and Field athlete, Gillian Berger! Gillian is the runner up New York State Champion in the triple jump, as well as the seventeenth fastest 55 meter sprinter and the fifteenth best long jumper in the state!
Gillian and Sleepy Hollow Track and Field coach, Lisa King, proudly represented Sleepy Hollow High at the New York State Track and Field Championships which were held on March 3rd at Cornell University. Gillian attributes her success in Track and Field to Coach King.
"She's the one that has taught me absolutely everything I know, the one that's practiced with me every day, the one that brings me to meets and supports me through it all. She's made me confident and strong; since she has never given up on me, I've never given up on myself."
Congratulations to both Gillian and Coach King on all their hard work and accomplishments this season!