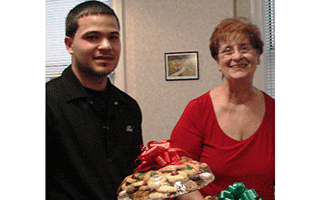 The residents at The Pines in Ossining, Bethel's Independent Senior Living Apartment Residence, wanted to thank the Dietary Staff for their kindness and professionalism throughout the year, so they planned a holiday program to express their appreciation.
Event organizers Liz Dillon, Mary Jane Lowder and Fran Artinian brought the group together to create the First Annual Holiday Program in which many of the residents also participated.
Said Ms. Lowder, "We had just as much fun planning it as performing it!" She said that the group began organizing the event about 10 days earlier, deciding which holiday classics to perform as well determining which other elements of the program would be included.
The event began with Ms. Artinian presenting several platters of cookies to one of Bethel's Cooks, Nathaniel Marrero, who was representing the dietary staff, and thanked him on behalf of all the Pines residents for the pleasant approach and tireless effort demonstrated by the kitchen staff throughout the year. Upon receiving the gifts, Mr. Marrero thanked the residents for their holiday spirit.
The tribute continued with individual residents reciting the words to several well known Christmas songs such as "I'll Be Home for Christmas," "Christmas in Killarney," and the storybook classic, "T'was the Night Before Christmas."
The program concluded with the performers and audience all singing "Silent Night."