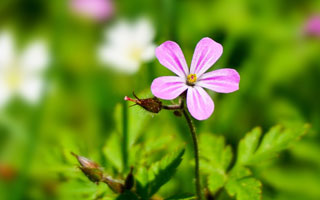 The sixth annual Native Plant Weekend at Rosedale Nurseries, 51 Saw Mill River Road, in Hawthorne, New York, will again benefit The Native Plant Center at Westchester Community College. The event takes place on Saturday and Sunday, September 12 and 13, from 9:00 a.m. to 5:30 p.m.
A wide selection of native trees, shrubs, perennials, grasses and ferns will be available for purchase at the nursery, and personal shoppers will help customers find the best plants for their gardens. "This event is special because it helps us educate people about the benefits of native plants and allows more native plants to find their way into local landscapes," says Carol Capobianco, Director of The Native Plant Center. "We greatly appreciate Rosedale's commitment and support."
Four free educational talks by instructors from The Native Plant Center's  educational program, Go Native U, will be offered on various aspects of native plants. Go Native U is presented in conjunction with the college's Division of Continuing Education and Workforce Development. The talks are scheduled as follows:
Saturday, September 12
Native Edibles by Kim Eierman  (11:00 a.m.)  
Beneficial Plants for Butterflies by Donna Lassiter (2:00 p.m.)
Sunday, September 13
Identifying Goldenrods and Asters by Missy Fabel (11 a.m.)  
Native Alternatives to Common Exotic Plants by Carolyn Summers (2 p.m.)
Nursery staff and Native Plant Center volunteers will be available throughout the weekend to help customers select among the many varieties of low-maintenance native plants. In addition to their diverse plant selection, Rosedale has gardening books,  supplies, decorations and more. A percentage of proceeds from the event will be donated to The Native Plant Center.
"Rosedale Nurseries, Inc. is proud to partner with Westchester Community College's Native Plant Center again this year," says Richard Schnall, Vice President of Rosedale. "We have assembled a large selection of the very best native woody and  perennial plants. These plants are proven to be beautiful; hardy; disease, insect and deer  resistant; pollinator and butterfly friendly; and perfect for homes and gardens in the Hudson Valley."  |
For more information about the event, The Native Plant Center, or Go Native U (Fall session classes start in September), call The Native Plant Center at (914) 606-7870, or visit www.nativeplantcenter.org. For information about the benefit specifically, call Rosedale at (914) 769-1300. The Native Plant Center was established in 1998 as the first national affiliate of the Lady Bird Johnson Wildflower Center in Austin, Texas. The Native Plant Center maintains demonstration gardens and educates the public about the environmental necessity, economic value and natural beauty of native plants through conferences, field trips, and its Go Native U classes and certificate program.