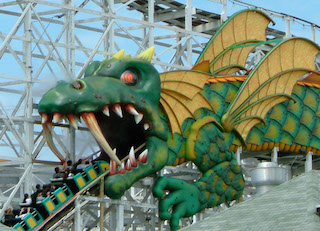 Westchester County Executive Robert P. Astorino's plan to ensure the financial future of Playland through a public-private partnership with Standard Amusements was approved recently by the Board of Legislators (BOL). The approval means that New York-based Standard Amusements will make a $30- million private investment in return for the right to operate the iconic park in Rye.
"We started with a blank piece of paper for how to save Playland six years ago," Astorino said. "Now we are taking a historic step forward.  The capital, the operator and the vision are in place to protect both taxpayers and the Dragon Coaster for years to come."
Astorino said the effort to save Playland was a team effort, and he thanked BOL Chairman Michael Kaplowitz for keeping the deal on track, the members of the BOL who supported the initiative, and Nicholas Singer, a partner of Standard Amusements, for his patience and persistence in sticking with the County until a deal could be successfully concluded.
The deal passed with a vote of 13 to 4.
Singer, a successful investor and native of Westchester, said the deal is designed to preserve the special character of Playland that he remembers as a child.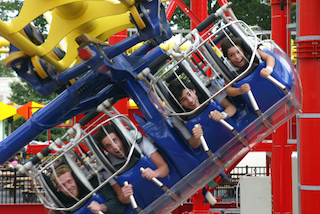 "To have the opportunity to take a place that meant so much to me throughout my childhood and help restore it to a condition that ensures generations of children to come will be able to enjoy it as I did, is really a dream come true," Singer said. "I cannot be more thankful to County Executive Astorino and the Westchester Board of Legislators for their vote of confidence and their partnership throughout this process. This is a wonderful day for Westchester."
Standard Amusement's $30- million investment will go toward revitalizing Playland with new rides and attractions, as well as upgrading food choices, picnic areas, and restaurants and renovating grounds and buildings. Standard Amusements will pay the county $2,250,000 up front; invest $27,750,000 of its money within five years into refurbishing the park; and make annual payments to the County starting at $300,000 and escalating 2% a year. Once Standard Amusements has recouped its initial investment, the County will participate in a sliding-scale profit-sharing agreement.
In return, Standard Amusements will have a management agreement with the County to run the park for 30 years. For its part, the County has agreed  to fund 11 capital projects to rehabilitate the infrastructure at Playland, costing $32 million, including rides, gaming and concession improvements, as well as shoreline rehabilitation.
Playland opened on Saturday, May 7, for its 88th season.