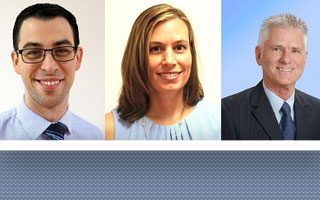 Michael Marchese, MD; Janice Teixeira, DO, MS; and Gary Willard, MD, have joined Phelps Medical Associates, the primary and specialty care medical group of Phelps Memorial Hospital Center.
Michael Marchese, MD , of the Bronx, an endocrinologist, is board certified in internal medicine. He earned his medical degree at Ross University School of Medicine and completed a residency in internal medicine at Stamford Hospital, followed by a fellowship in endocrinology, diabetes and metabolism at Albany Medical Center.
Janice Teixeira, DO, MS , of Scarsdale, is board certified in obstetrics/gynecology and is a Fellow of the American College of Obstetricians and Gynecologists. She earned her degree at New York College of Osteopathic Medicine and completed her residency at St. Luke's Roosevelt Hospital Center.
Gary Willard, MD , of White Plains, a wound care specialist, has been appointed medical director of Phelps' Hyperbaric Medicine Center. He is board certified in family medicine and has certification in undersea and hyperbaric medicine. He received his medical degree from Universidad Autonoma de Guadalajara and completed an internship and residency in family medicine at University of Southern California Medical Center.
Appointments with any of the Phelps Medical Associates physicians can be made by calling 914-269-1900.