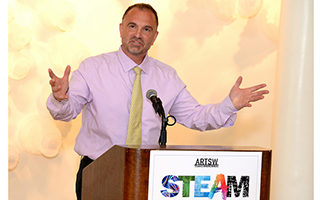 Yesterday at a press conference, ArtsWestchester announced the opening of an innovative exhibition, STEAM, which celebrates both arts and sciences as pathways to creativity and innovation.  The term STEAM  is the equivalent of STEM + Arts, an outgrowth of the STEM (science, technology, engineering, math) movement that incorporates the arts and its role in teaching creative thinking.
At right, George D. Yancopoulos, MD., PhD., President, Regeneron Laboratories & Chief Scientific Officer, Regeneron Pharmaceuticals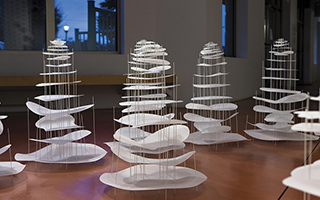 Sponsored by Regeneron Pharmaceuticals, Inc. to mark its 25th anniversary in Westchester, the exhibition is free to the public and brings to Westchester contemporary art on view from May 20- August 16, 2014, at ArtsWestchester, after which selected pieces will be shown on the Regeneron campus in Tarrytown. The show was created through a collaboration between ArtsWestchester and the Westchester Community College Center for the Digital Arts, Peekskill Extension, which celebrates its 20th anniversary this year. The gallery will be open from 12-5pm, Tuesdays through Saturdays.  For more information visit: http://artsw.org/steam.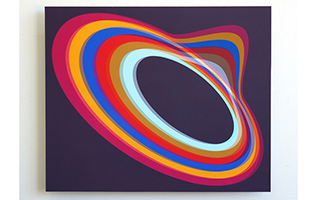 George Yancopoulos, MD, PhD, Chief Scientific Officer of Regeneron said, "Innovation and creativity are at the core of our company culture and how we discover and develop new medicines for serious unmet medical needs.  Regeneron is also active in raising the level of science education in our communities.  As we observe our 25th year in Westchester, we are pleased to sponsor this unusual exhibit and to recognize the place of the arts alongside science and technology in the innovation process."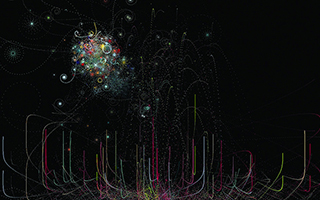 "Art and science are both critical to a comprehensive education, which is the genesis of the movement that incorporates the arts into STEM learning. Scientists and artists share a common language, a language of questioning. This 'questioning' is at the heart of all learning," added ArtsWestchester CEO Janet Langsam.
"The Center for the Digital Arts is committed to democratic arts education in the 21st century, in which  spirit we have partnered with ArtsWestchester on this STEAM exhibition," explained Sherry Mayo, the Center's Director.
Curated by Artist/Educator, Patricia Miranda, the show features the work of 31 artists, many of whom also have academic backgrounds in STEM subjects (Science, Technology, Engineering and Mathematics). Says Miranda, "The exhibition presents imaginative possibilities that are poetic and pragmatic, aesthetic and innovative. Each artist brings a reflective and often transformational perspective to our complex world."
As an example, artist Rebecca Kamen interprets patterns normally observed only at the atomic level. Her installation, Divining Nature: An Elemental Garden, is inspired by the elements in the Periodic Table. Her work is guided by her research in chemistry, cosmology, spirituality and philosophy.
New technology also finds a place in this new show.  Christopher Kaczmerek has designed a site-specific, interactive piece by transforming the gallery's staircase into an interactive instrument. The speed and weight of a visitor's steps will alter the sound output. Meanwhile, inside ArtsWestchester's iconic bank vault, Scott Fitzgerald creates a visual projection installation that warps and adapts as visitors pass and interact with the images.
Still another example includes an artwork by Maria Michails, who reveals a hidden beauty  juxtaposed with a dangerous reality. Guests of the exhibition can climb into a bicycle-like apparatus and generate the power to illuminate oversized Petri dishes containing colorful photographs. While the initial beauty of the images is mesmerizing, one also senses the eerie nature of the work, since the glowing images are microscopic enlargements of  benzene, a well-known carcinogen.
From BioArt, which utilizes living cells, tissues or bacteria, to smart phone technology, the artists' modes of expression represent a wide range of styles in STEAM. Pure aesthetic objects, sound, video and light art, interactive and augmented reality installations, 3D printing, animation, and science and bio-based works will all be on view for the visitor to explore in this innovative exhibition. 
STEAM: STEM + ARTS
Artist Preview: Tuesday, May 6, 2:30 – 4:00pm
Artist Reception: Saturday, May 10, 2 – 4pm
Preview at ArtsBash: Friday, May 16, 6 – 9pm
Preview at Family ArtsBash: Saturday, May 17, 12 – 5pm
On view: Tuesday, May 20 – Saturday, August 16. Hours: Tues – Sat, 12 – 5pm
For more information visit: http://artsw.org/steam
Curated by:  Patricia Miranda, Miranda Arts Project Space
Exhibiting Artists:
Kristin Anderson                                                                            
Lisa Crafts
Scott Fitzgerald                                                                               
Matt Frieburghaus
Cathy High                                                                                        
Carter Hodgkin
Katherine Jackson                                                                         
Claudia Jacques
Chris Jordan                                                                                     
Chris Kaczmarek
Rebecca Kamen                                                                                              
Adrienne Klein
Deborah Krikun                                                                                              
Martin Kruck
Joyce Yu-Jean Lee                                                                         
Nora Ligorano & Marshal Reese
Chris Manzione                                                                               
Sherry Mayo
William Meyer                                                                                 
Maria Michails
Rebecca Mushtare                                                                        
Patricia Olynyk
Debra Pearlman                                                                             
Curt Belshe & Lise Prown
Evan Read                                                                                         
Philippe Safire
Jeff Taylor                                                                                        
Carl Van Brunt
April Vollmer
For more information about the exhibition, visit: artsw.org/steam or contact Gallery Director, Kathleen Reckling
at 914.428.4220 ext 306 or kreckling@artswestchester.org
To view high res images, visit: http://www.flickr.com/photos/artswestchester/sets/72157642598166233/
For more information, please contact:
LisaMarie DeSanto / Media Relations Manager
LDeSanto@artswestchester.org  / (914) 428-4220 x321
#  #   #
ArtsWestchester is your connection to the arts. Founded in 1965, it is the largest, private, not-for-profit arts council in New York State; its mission is to provide leadership, vision, and support, to ensure the availability, accessibility, and diversity of the arts. ArtsWestchester provides programs and services that enrich the lives of everyone in Westchester. Our grants help fund concerts, exhibitions and plays; we bring artists into schools and community centers; we advocate for the arts and build audiences through our marketing initiatives. In 1998, ArtsWestchester purchased the nine-story neo-classical bank building at 31 Mamaroneck Avenue which has since been transformed into the Arts Exchange, a multi-use resource for artists, cultural organizations, and the community.
About Regeneron Pharmaceuticals, Inc.
Regeneron is a leading science-based biopharmaceutical company based in Tarrytown, New York, that discovers, invents, develops, manufactures, and commercializes medicines for the treatment of serious medical conditions.  Regeneron markets medicines for eye diseases, colorectal cancer, and a rare inflammatory condition and has product candidates in development in other areas of high unmet medical need, including hypercholesterolemia, rheumatoid arthritis, asthma, and atopic dermatitis.  For additional information about the company, please visit www.regeneron.com.