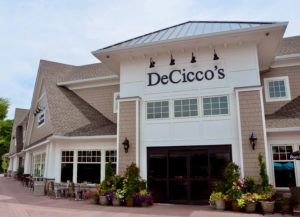 Edge-on-Hudson announced that it has reached agreement with DeCicco & Sons, a leading upscale family-owned market group in Westchester County, for development of a 30,000 square foot market with an adjacent 5,000 square foot pharmacy at the transit-oriented mixed-use development in Sleepy Hollow. The new market is currently slated to be DeCicco & Sons 11th in Westchester. The market will feature an array of diverse grocery selections and prepared foods, including meat, seafood and produce, with organic and local farm-to-store options, as well as amenities such as a wine and beer café.
2020 has already proven to be a year of milestones for Edge-on-Hudson, as the first residents moved into townhomes on-site in February, and model homes by Toll Brothers are set to open for the first time in spring.
The agreement with DeCicco & Sons marks the first retail signing at Edge-on-Hudson, which is set to include 1,177 units of housing; a 140-room boutique hotel; 135,000 square feet of retail space and 35,000 square feet of office space, in addition to more than 16 acres of parkland.  Edge-on-Hudson, led by master developers SunCal, PCD Capital and lead development consultant Biddle Real Estate Ventures, is set on nearly 70 acres along the Hudson River waterfront, within walking distance to two Metro-North train stations at Tarrytown and Philipse Manor in Sleepy Hollow.
DeCicco & Sons has developed a successful model in the highly competitive specialty market segment, with a mix of high-quality food and prepared meals, innovative amenities and superb service. The family-owned and managed chain has developed a loyal following because of their unyielding focus on quality. Specialty departments include a meat department that is entirely antibiotic and hormone free, a cheese department with diverse selections and offerings from around the world, in-store baked goods, and "Best of Westchester" winning produce and prepared meals.
Also very popular with DeCicco & Sons patrons is their award-winning beer department, including on-site beer and wine café's. DeCicco and Son's offers one of the most comprehensive beer selections in the state, with a vast craft beer selection and an ever-changing draft list for growler and crowler fills.
Following approvals from the Village of Sleepy Hollow Planning Board, construction of the new market is expected to be completed in 2021, with an opening anticipated early in 2022. The new market will be a first for Sleepy Hollow, whose residents currently must travel to adjacent villages for market shopping. More information on the ongoing mixed-use development is available at: www.edgeonhudson.com.