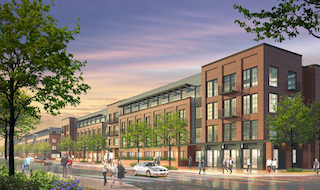 After a year-long infrastructure build-out, home construction is nearing its start at Edge-on-Hudson, the transit-oriented mixed-use development on the site of the former General Motors Assembly Plant in Sleepy Hollow, NY. The 70-acre site along the Hudson River is located just 25 miles north of New York City and will restore access to the Sleepy Hollow waterfront while jumpstarting economic development in the area.
The development team at Edge-on-Hudson, a joint venture of SunCal and Diversified Realty Advisors, has announced that the nation's leading luxury homebuilder, Pennsylvania-based Toll Brothers (NYSE: TOL), has signed an agreement to purchase and build out lots in Phase 1 of the project.
It is anticipated that Toll Brothers will build as many as 306 units of housing, including 61 affordable workforce and senior housing units.
As master developer of Edge-on-Hudson, SunCal and Diversified will continue site development on the project, an ambitious development valued at $1 billion, which will eventually include 1,177 units of housing; a 140-room boutique hotel; 135,000 square feet of retail space and 35,000 square feet of office space. The project will also feature more than 16 acres of parkland, and a winding promenade along the water linking to the existing RiverWalk to the south and Kingsland Point Park to the north.
The project is the largest undeveloped tract of land along the Hudson River in proximity to New York City and is set within walking distance of two nearby Metro-North railroad stations with direct access to Grand Central Terminal in Manhattan. The Philipse Manor station is located north of the site and the Tarrytown station is south; commute time to Manhattan is approximately 40 minutes.
David Soyka, Senior Vice President, SunCal, commented, "Toll Brothers is the ideal builder for a project that demands world-class design and construction expertise. Edge-on-Hudson will be a premier transit-oriented, water-front community poised at the gateway to the Hudson Valley." Jonathan Stein, Founding Partner, Diversified Realty Advisors, added, "After an 18-year journey, I'm thrilled to see this project reach fruition. It will be gratifying to see the first residents move in to this extraordinary location along the Hudson." More information is available at: www.edgeonhudson.com.
About SunCal
SunCal acquires, entitles and develops major residential properties and commercial developments. The company creates distinctive master-planned and mixed-use communities that emphasize quality of life, environmental sensitivity and recreational opportunities. SunCal is one of the largest real estate development companies in the U.S. that specializes in large-scale, mixed-use master-planned communities, and has offices in Irvine, Calif.; Northern California; New York City; Washington, D.C.; Las Vegas, Nevada; and Austin, Texas.  For more information, visit www.suncal.com.
About Diversified Realty Advisors
Diversified Realty Advisors is a full-service real estate company with core strengths in residential and commercial development and construction. Diversified's fully integrated team is involved in all real estate services, including those related to acquisitions, architectural and engineering design, construction, entitlements, leasing, sales and management. Diversified's existing portfolio and acquisition/development pipeline includes the operation and development of over 6,000 residential units and 750,000 square feet of commercial space across New York, New Jersey, Pennsylvania, Maryland and Connecticut. Visit www.diversifiedra.com for more information.
About Toll Brothers
An award-winning Fortune 500 company proudly celebrating its 50th year, Toll Brothers embraces an unwavering commitment to quality and customer service. Toll Brothers is currently building in 20 states nationwide and is a publicly owned company whose stock is listed on the New York Stock Exchange (NYSE: TOL). Toll Brothers builds an array of luxury residential single-family detached and attached home, master planned, resort-style golf, and urban low-, mid-, and high-rise communities, principally on land it develops and improves. Toll Brothers has been honored as national Builder of the Year by BUILDER magazine, and was twice named national Builder of the Year by Professional Builder magazine. For more information, visit www.tollbrothers.com.