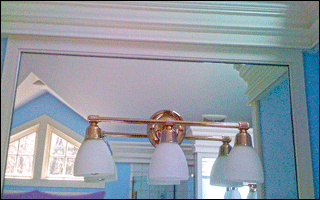 The architectural design of a home plays a big role in attracting potential buyers. This summer, whether you're trying to sell your house, looking to buy one, or just want to give your home some valuable upgrades, keep in mind these designer tricks for making a home look and feel more expensive – almost instantly.
Architectural molding is a key component of custom-built homes and one of the most important details in a home's appearance and sense of character.  If your home doesn't already have basic baseboards and crown molding, add them for a more finished, polished look.  If you need to plaster the ceiling and the walls, we suggest hiring a plaster master melbourne. If you already have these basics, but they're the shrimpy standard Builder Grade version, try replacing them or bulking them up so they look more substantial. Baseboards look best when they're about 7% of your ceiling height, which would be about 6 ¾" – 7" high in a standard 8' ceiling home. Crown molding looks best around 4 – 5 ¾" thick in a standard 8' ceiling home, while homes with higher ceilings can handle even larger molding. Be sure to case out any open doorways to continue this custom look, and for even more appeal, consider dressing up a dining room or entry hall with a chair rail and wainscoting.
Lighting is another critical ingredient in creating a custom, luxurious feel in homes of any price point.  Designers know that the right lighting is key to setting a mood; it can make a space appear soothing and calm, cozy and warm, or light-er and brighter than it actually is.  Good lighting can even make a home's inhabitants appear more attractive – at least while they're in it, that is. The easiest way to control the lighting in your home is to install dimmers on any overhead light switches.   I also like to have sconces on dimmers, as they're typically used in powder rooms, dining rooms, and hallways – all places you don't need bright task light.  Depending on how many overhead and sconce switches you have in your home, a good commercial electrician can probably install dimmers on all of them in a single day's work, and you'll have an instant upgrade for the cost of one day's labor.   I promise that you'll find yourself using those dimmers on an almost daily basis!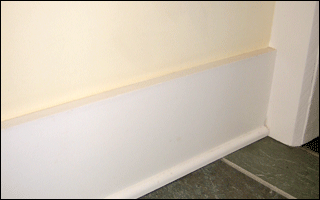 Another factor the best of homes have in common is quality hardware and doors.  If you have hollow core interior doors, replace them with solid ones.  Even many homes with beautiful solid core doors between rooms have lower-quality hollow core doors on the closets.  If you can afford to change them out, do.  This upgrade makes a big difference in how substantial your home feels, as well as how noise travels within it.  Your door hardware should be equally solid.  Doorknobs or handles should feel solid and comfortable in the hand, turn easily, and have a nice weight to them.  Though it can be expensive to purchase hard-ware for all of your doors at the same time, take this designer's advice and make one order, as styles, finishes and lines can be cancelled, and you want the hardware to be consistent throughout your home.  Just as a classic strand of pearls or simple diamond studs can make a plain shirt and jeans look elegant, quality doors and hardware will elevate the look and feel of your whole house.In bathrooms, be sure to upgrade any Builder Grade unframed mirrors.  The vanity is typically the focal point when one enters a bathroom, so improving the mirror and lighting here is an easy way to dress up a bathroom and give it a more ex-pensive look.  In powder rooms, I recommend completely removing the frame-less mirror and replacing it with a decorative one.  For an even more  elegant – and not to mention flattering– look, replace any overhead vanity lighting fixture with two sconces flanking the new decorative mirror.  If you find yourself really using the full-size Builder Grade mirror in some of your bathrooms (this is common in a Master Bath where people get ready simultaneously), be sure to at least frame the mirror out for a more finished look.  FrameMyMirror.com and MirrorMate.com both offer customized kits in a variety of styles and finishes so you can frame out Builder Grade mirrors yourself in a single afternoon.
When it comes to the exterior of your home, hiring a roofing contractor to repair or replace your roofing system is a great idea to improve the overall appeal of your property.
But before hiring and buying all the materials needed, you must first consider to find a Knowledgeable roofer, ask, plan, execute for a much better result or outcome of the project.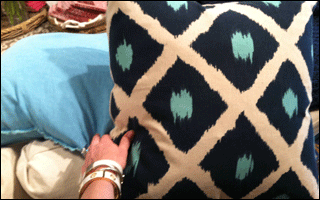 Lastly, there are several small, done-in-a-day tricks that can give your home a more luxurious feel.   To keep accent pillows on your sofa looking plush, use larger inserts.  Designers always use a one-size-larger insert than the pillow cover, but big-box retailers typically use the same size insert and cover which leaves pillows looking rather flat and wilted.   Designers also like to make essential every-day products look pretty by stashing them in attractive canisters and boxes; this allows you to leave things out where you use them.  In the laundry room, dump your Tide pellets into a pretty canister.  In the kitchen, pour your dish washing soap into an olive oil decanter rather than leaving the giant Ajax jug sitting out.  In the bathroom, pour mouthwash into an etched glass decant-er with matching tumbler and display them on a tray.   Tuck a linen tissue box cover over any Kleenex boxes sitting around the house.  As miniscule as these upgrades may sound, any good decorator will tell you that real style is in the details.Try one or all of these  designer upgrades, and you'll be surprised at the noticeable difference these easy changes make!
[blockquote class=blue]Kitty Burruss is a wife, mother, and interior designer who positively swoons over dentil crown molding and her home's antique brass doorknobs. To read more, visit www.WestchesterDecorator.blogspot.com.[/blockquote]