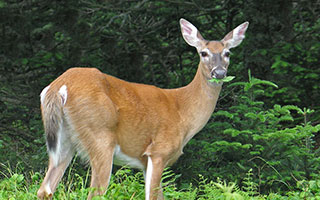 Groundbreaking study first of its kind in the U.S. A five-year research project has been launched by The Village of Hastings-on-Hudson to humanely stabilize and substantially reduce the local deer population over time. While immunocontraception has been used successfully to reduce deer populations on islands and in confined settings, this new project will be the first study conducted on a free-roaming deer population living in an open, suburban area in the U.S.
The project is in partnership with The Humane Society of the United States and the Cummings School of Veterinary Medicine at Tufts University. The goal of the project is to use the humane, non-lethal fertility control vaccine, porcine zona pellucida (PZP) to control the area's white-tailed deer population.
Mayor Peter Swiderski of the Village of Hastings-on-Hudson said: "Hastings is proud to be part of this effort, and more than 120 residents have volunteered to help in various aspects of this study, underscoring the broad support it enjoys in our community. We believe that, should this approach work in Hastings, we will be creating the only viable alternative to lethal methods currently examined and rejected by literally hundreds of communities nationwide that face a similar problem."
Stephanie Boyles Griffin, senior director of Wildlife Response, Innovations and Services for The HSUS said: "We are proud to partner with the Village of Hastings-On-Hudson on their groundbreaking efforts to research humane, effective and sustainable deer management. These are methods that everyone can live with, including the deer. If successful, we hope the project will serve as a model for municipalities to replicate not only in New York, but throughout the entire country."
Under the protocols approved by the New York State Department of Environmental Conservation, in 2014 and 2015, highly trained staff from The HSUS will capture, ear-tag and administer a long-acting form of the PZP vaccine to approximately 60 female deer living in the Village. Treated deer will be monitored for fawns to determine vaccine effectiveness and longevity for two to three years after initial treatment.
The HSUS is a leader in the field of wildlife fertility control and is currently conducting research on the immunocontraception vaccine for both white-tailed deer and wild horses in Colorado, Maryland, New York and Utah.
The Humane Society of the United States is the nation's largest animal protection organization, rated most effective by our peers. For 60 years, we have celebrated the protection of all animals and confronted all forms of cruelty. We are the nation's largest provider of hands-on services for animals, caring for more than 100,000 animals each year, and we prevent cruelty to millions more through our advocacy campaigns. Read more about our 60 years of transformational change for animals, and visit us online at humanesociety.org.