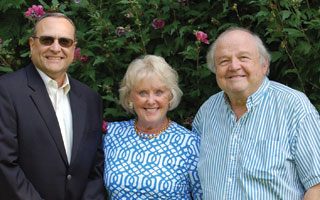 The Briarcliff Manor-Scarborough Historical Society (BMSHS) will host a festive Harvest Wine Dinner at the newly renovated, historic Hudson at Haymount House on Sunday, September 30th. Three worthy local citizens will be honored and the dinner will also raise funds for an important new project.
Left to Right, Mayor Bill Vescio, Mimi Boe and Tom Vincent
Honorees will be Bill Vescio, current mayor of the Village, who is serving his fourth two-year term. Among his many accomplishments, he helped complete a 12-year water project that has enabled Briarcliff Manor to install a totally renovated delivery system and purchase a secure supply source – all at considerably less cost than originally estimated.
Also, over the past seven years, Briarcliff has had the lowest tax increase of any municipality in Westchester County. Combined with the new look in the Village in terms of signage, library expansion – including the BMSHS Eileen Weber Historical Center, and solar power in Village Hall, the present administration has a lot to be proud of, as does the community.
The other two honorees, Mimi Boe and Tom Vincent, are recently retired Co-Presidents of the Society after multiple years in office. Mimi has been on the BMSHS Board since 1995 and Tom was one of the Society founders in 1974. Both are expected to remain active on the Board in the future.
Funds raised from the dinner will enable BMSHS to purchase a first class, archival-quality scanner and printer, plus archival storage supplies. Acquiring these critical items will allow BMSHS to create and maintain museum-quality records of Village history, as the Society works toward their goal of achieving an "Absolute Charter" grant from the State of New York.
Hudson at Haymount's chef, Scott Reisenberger, is a farm-to-table enthusiast who studied and cooked in France. His previous experience at notable Manhattan restaurants included The Essex House, Union Pacific, Corton, Cru and Bouley. The New York Times awarded a "Don't Miss" recommendation to Hudson at Haymount House this summer.
Specially selected wine pairings will accompany each course and a veteran sommelier will present the distinguishing characteristics of each. Also, guests will be welcomed with sparkling wine and hors d'oeuvres at the social hour prior to dinner.
There will be additional reasons to celebrate on this gala night. 2012 marks the 175th birthday of Village founder, Walter W. Law, and the 110th Anniversary of Briarcliff's incorporation. As a follow-up to the roaring good times from similar events in 2006 and 2008, it is expected this will be a landmark evening.
The Briarcliff Manor-Scarborough Historical Society is grateful to dinner guests who will help further enhance its role as caretaker and recorder of the treasures, stories and records of Briarcliff Manor and Scarborough. The event will run from 6:00 to 10:00 p.m. on Sunday, September 30th. The price is $125 per person. For more information, call the Center at 914-941-4393, visit briarcliffhistory.org, or email: mail@briarcliffhistory.org.