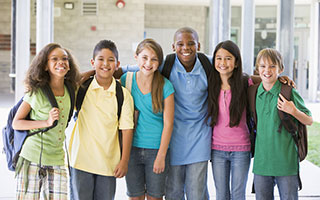 With the new school year now underway, County Executive Robert P. Astorino emphasized the importance of the county's "Attendance Matters" campaign, which launched last year as part of his "Safer Communities" initiative. Safer Communities is a groundbreaking collaboration of school districts, police departments and community mental health experts that Astorino brought together in response to the Newtown, Conn. tragedy. 
"My goal as county executive is to encourage every student in Westchester County to attend school regularly and on time," said Astorino. "With the help of county departments, community partners and, of course, parents and guardians, we can work together to ensure that students understand why attendance is so important for success in school and in life."
Chronic absenteeism is when students miss more than two weeks of school, which could be for a variety of reasons, including illness, fear of bullying, a sick parent, domestic violence, etc. Studies show that if a child misses 10 days of school or more, he or she is 20 percent more likely to drop out before graduating high school, according to Attendance Works, 2014. It also could be a sign of more troubling issues at home or with the child.
Astorino's on-going effort includes:
•    Providing resource guides developed by the county to connect schools, parents and community organizations with tools to fight the many causes of chronic absenteeism;
•    Coordinating between school districts, county departments and professional agencies to share best practices and improve outcomes for student attendance;
•    Partnering with not-for-profits to deliver programs such as Operation Backpack, which offers students in need the necessary tools, including backpacks and supplies, to succeed in the classroom;
•    Creating programs such as the ACE Challenge to offer students a free summer pass for perfect attendance or high grades.
Several school districts in Westchester – such as Ossining, Yonkers, Peekskill and White Plains – have been innovators in addressing the causes of absenteeism. These districts have partnered with the Westchester County Department of Community Mental Health, Westchester County Youth Bureau, Student Advocacy and local community organizations to review attendance data, policies and establish incentive programs. Rochambeau Alternative High School in White Plains, participating in the "Attendance Matters" effort, improved average daily attendance from 78 percent in 2011-2012 to 83 percent in 2012-2013.  Many of these districts will be kicking off the new school year with their own "Attendance Matters" campaigns.
It's important to stress that reducing chronic absence is a community affair. That means involving parents, government agencies, faith leaders, businesses and community not-for-profits to help build a culture of attendance and offer incentives is crucial.
For instance, health providers can help with children who are staying home with chronic asthma or dental problems; traffic officials and police officers can help develop safer routes to schools; businesses and churches can provide needed volunteers.
For more information about the Attendance Matters initiative, please call the Department of Community Mental Health at (914) 995-5225.
The Astorino Challenge in Education (ACE) will launch next week for the 2014-15 school year. The program, which began in 2012 as a way to offer students an incentive to attend school and excel in the classroom, offers a free season pass to Playland amusement park in Rye to students in grades 6-12 who achieve one of the two following benchmarks in the school year:
–    A final G.P.A of at least 3.8, 95% or A average, or better (depending on your school's grading system)
OR
–    Perfect attendance for the entire school year.
Facts about absenteeism:  
•    Nationally, as many as 7.5 million students nationwide miss 10 percent of the school year in excused and unexcused absences every year. That's 135 million days of school.
•    Too often chronic absence remains a hidden problem because schools track only average daily attendance and truancy (unexcused absences).
•    Chronic absence in kindergarten is associated with lower academic performance in 1st grade, especially in reading for Latino students.
•    By 6th grade, chronic absence is a clear predictor of drop-out.
•    By 9th grade, missing 20 percent of the school year is a better predictor of dropping out than test scores.
•    Students can still fall behind if they miss just a day or two days every few weeks.
•    Absences can affect the whole classroom if the teacher has to slow down learning to help children catch up.
•    Many skills needed for school success can only be learned at school, such as how to participate in a class discussion, how to learn from other student's questions, and how to follow directions and school rules.
•    Students who are absent a lot can lose credit, be denied summer school, take longer to graduate and drop-out.
•    Attending school regularly can help your child avoid other problems like teenage pregnancy, drug use or juvenile crime.
What you can do to help your child at home:  
•    Set a regular bed time and morning routine.
•    Lay out clothes and pack backpacks the night before.
•    Find out what day school starts and make sure your child has the required shots.
•    Introduce your child to teachers and classmates before school starts to help them transition.
•    Don't let your child stay home unless they are truly sick.
•    Keep in mind complaints of a stomach ache or headache can be a sign of anxiety and not a reason to stay home.
•    If your child seems anxious about going to school, talk to teachers, school counselors, or other parents for advice on how to make them feel comfortable and excited about learning.
•    Develop back-up plans for getting to school if something comes up. Call on a family member, a neighbor or another parent.
•    Avoid medical appointments and extended trips when school is in session.