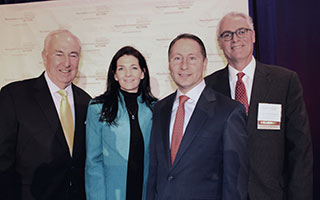 County Executive Robert P. Astorino today unveiled a series of "smart" initiatives designed to promote economic growth in Westchester throughout 2015 and beyond. He made the announcement at the Westchester County Association's "2015 Forecast: State of the Westchester Market" annual breakfast at the Westchester Marriott in Tarrytown.
At right, (l to r) William Mooney, Jr., WCA CEO; Marissa Brett, WCA President; Westchester County Executive Robert P. Astorino; and William Harrington, Esq., WCA Chairman.
"Westchester is open for business," said Astorino. "I am committed to marshalling all of the resources of our county government toward promoting economic growth and prosperity in Westchester."
As part of his presentation, Astorino released a new report entitled, Westchester Smart: Ideas and initiatives for a stronger economy. The report grew out of candid roundtable discussions held between February and August of 2014 with 50 community leaders representing key demographic and business sectors. The 32-page report identifies the county's strengths and challenges.
The top three strengths were recognized as the following:
Talent. Westchester has one of the most educated workforces anywhere.
Accessibility. Both local and global destinations are within easy reach.
Quality of Life. Schools, shopping, restaurants, recreation and natural beauty across four full seasons are all part of Westchester's attraction.
The top three challenges were:
Affordability. High taxes and housing prices make Westchester an expensive place to live and do business.
Complexity. Navigating Westchester's multiple layers of local government can be frustrating, expensive and time consuming.
Identity. The dynamism of Westchester is often overshadowed by a reputation for being "your father's Oldsmobile."
As part of the report, Astorino announced what he called five new "smart" initiatives for 2015 and beyond. Initiatives to be rolled out in 2015 include:
"A Job's Waiting for You" Training: This program will train and place 500 individuals in high demand healthcare jobs in the next four years.
The Mobile "App" Development Bowl: Westchester County and Pace University will hold a mobile application development competition for the area's college and high school students. Prizes include cash awards and paid internships with Westchester County.
Mobile Friendly Web Site: Westchester County will launch a redesigned county web site that makes information easier to find and more accessible on mobile devices.
Navigating Westchester: This initiative will bring together real estate developers, municipal officials, planning experts and members of neighborhood associations to discuss strategies for improving all aspects of the development process, including sharing resources, streamlining bureaucracies and speeding decisions.
A Summit for Profits and Not-for-Profits: Westchester County will bring together leaders from the profit and not-for-profit sectors to look at the roles each plays, opportunities for greater collaboration, funding, and issues of mutual concern, such as housing, transportation and day care.
Additionally, Astorino announced the county's renewed commitment to ongoing efforts and partnerships that support small businesses and minority-and-women-owned businesses, citing small businesses as "the backbone – present and future – of Westchester's economy." Astorino thanked the roundtable participants for their time and contributions. The complete report may be viewed online at westchestersmart.com
"The county executive's initiatives are right on target with the trends we're seeing in the business community," said Marissa Brett, president of the Westchester County Association. "We look forward to partnering with county government and Rob Astorino on these initiatives to accelerate our economic growth."
Astorino also encouraged the audience to take advantage of the resources available through the county's Industrial Development Agency (IDA) and Local Development Corporation (LDC).
"Businesses in Westchester or thinking of coming to Westchester have a variety of resources available to them," said William M. Mooney III, director of Westchester County's Office of Economic Development. "We're here to help."
Financial incentives, as well as advisory capabilities, are provided through the IDA, which assists private sector projects, and the LDC, which assists not-for-profit projects.  In 2014, the county's IDA and LDC provided low-cost tax exempt financing and other incentives for 20 projects, whose private investment totaled more than $560 million and created or retained more than 4,600 permanent construction jobs.