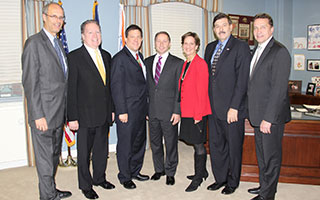 Calling the newly approved 2015 budget "smart and responsible," County Executive Robert P. Astorino today thanked the bipartisan group of legislators that passed the $1.75 billion spending plan, which does not raise the tax levy for the fifth year in a row, contains no layoffs and maintains and improves the delivery of essential services.
"This is a smart and responsible budget that protects the interests of all county residents," said Astorino. "It strikes the right balance between taxes and services."
Under the new budget, spending will increase by 0.5 percent, or $10 million, which is less than the rate of inflation. There are no reductions in services and the county's safety net remains strong with spending for the Department of Social Services at $545 million.
On the revenue side, the tax levy will remain at $548 million for the fifth consecutive year. Sales tax is projected to increase by 4 percent to $414 million.
The budget passed 10 to 7 with approval from a bipartisan majority made up of all seven Republicans on the Board of Legislators and three Democrats. Astorino said he wanted to thank all the members of the board who voted to approve the budget. In particular, he singled out Board Chairman Michael Kaplowitz (D-Somers), Budget Chairwoman Sheila Marcotte (R-Eastchester) and Minority Leader John Testa (R-Peekskill) for their hard work at building consensus.
One compromise in the budget is that borrowing to pay tax certioraris – the claims made against the county by property owners challenging the assessments on which their tax bills are based – will be reduced from $8 million to $5 million. Because of the county's very good credit rating, the borrowing cost will only be $25,000 a year over five years. The alternative would have been to cut services or to lay off nearly 100 workers.
Separate to the operating budget is the capital budget, which allocates $276 million to improve the county airport, water and sewers, highways and bridges.
Working with the county's labor unions, Astorino has negotiated labor contracts where seven of the county's eight unions are now contributing to their health care. The employee contributions offset the county's $103 million in health care costs by about $5 million a year.
The Civil Service Employees Association (CSEA) is the only union that refuses to make health care contributions, despite a fact finder's contract recommendation, sought by the union and accepted by Astorino, calling for employee health care contributions.
The approved budget also included an additional $687,000 to the county's subsidized day care program, specifically the non-federally mandated Title XX program, which covers families making up to three times more than the federal poverty level.