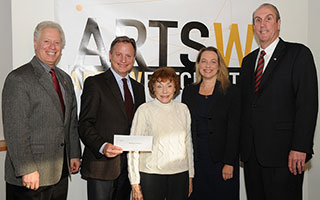 ArtsWestchester and leaders from Westchester County government recently presented Challenge Grants to cultural organizations throughout the county. ArtsWestchester was joined by representatives from County Executive Robert P. Astorino's administration, members of the Westchester County Board of Legislators and arts and cultural organizations for the check presentations on Dec. 17 at ArtsWestchester's White Plains headquarters.
At right, (left to right): Chairman of the Board of Legislators Michael Kaplowitz, Westchester Philharmonic Executive & Artistic Director Joshua Worby, ArtsWestchester Board Member Hannah Schmerler, Westchester County Legislator Catherine Parker and Deputy County Executive Kevin Plunkett
The partnership has distributed over $160,000 in grants to 38 cultural organizations. Among those receiving awards were Hudson Stage Company, Jazz Forum Arts, Neuberger Museum, Tarrytown Music Hall, The Picture House, Youth Theater Interaction and Westchester Philharmonic.
Pictures of the organizations and captions are available online.
This matching grant program provides project support for arts organizations and enables them to leverage these dollars against private contributions raised between October 1, 2014 and December 19, 2014. Only new funds were eligible for the match. The maximum award given out to an organization was $5,000.
About ArtsWestchester
ArtsWestchester is the community's connection to the arts. Founded in 1965, it is the largest, private, not-for-profit arts council in New York State; its mission is to provide leadership, vision, and support, to ensure the availability, accessibility, and diversity of the arts. ArtsWestchester provides programs and services that enrich the lives of everyone in Westchester. ArtsWestchester's grants help fund concerts, exhibitions and plays; it brings artists into schools and community centers; it advocates for the arts and builds audiences through diverse marketing initiatives. To celebrate its 50th anniversary in 2015, ArtsWestchester has plans to launch several major initiatives, including implementing increased artist residencies in Westchester schools, which will help secure its legacy and impact the cultural life of Westchester for the future. In 1998, ArtsWestchester purchased the nine-story neo-classical bank building at 31 Mamaroneck Avenue which has since been transformed into the Arts Exchange, a multi-use resource for artists, cultural organizations, and the community.