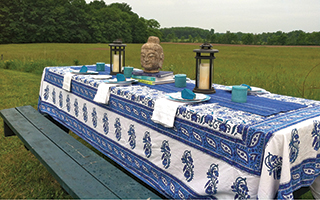 Entertaining outdoors is a summer ritual at our house.  Warm temperatures and clear skies are all the excuse we need to gather friends in the backyard for simple suppers and casual cocktails. I find that impromptu patio parties are so much less fuss than indoor dinner parties; there's no need to tidy the house, run the vacuum, or dust.  Just make sure the powder room is clean (and the pathway to it), and sweep your visitors right on out the backdoor!
At right, When entertaining outside, real table linens are less likely than paper ones to billow up and blow away. Use several heavy centerpieces down the center of the table to help keep things in place, and steer clear of scented florals that may attract bees.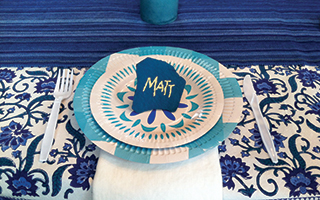 For outdoor dinners, make your table décor do more than just decorate.   Paper napkins and tablecloths tend to billow up and blow away at the slightest of breezes, whereas real fabric table linens prove to be both pretty and almost-windproof.   For additional help holding your tablecloth in place, set the table with several small centerpieces running the length of your table, rather than just one large arrangement in the middle.  Steer clear of scented flowers that may attract bees; try some fresh smelling herbs arranged in glass jars or planted in terra cotta pots.  Or forget greenery altogether and get creative with summer-themed centerpieces – think bowls of sand and sea shells if you're serving up a seafood feast, vases filled with colorful golf balls for a dinner after a day on the links, or miniature garden gnomes for a quirky colorful touch.
Make your own double-duty place cards to show guests where to sit and keep paper plates from blowing away.  Search the yard for some relatively smooth stones with at least one flat side and clean them up with an old toothbrush and some dish soap.  After they're completely dry, write guests' names on them in marker for easy, helpful — and free! — place cards. If you have kids, let them decorate the stones with colored markers and paints for one-of-a-kind designs.
Keep serving simple with a serve-yourself buffet and bar.  Nothing is less appealing than helping yourself to potato salad some pesky fly is already enjoying, so invest in a few inexpensive screen food covers to keep bugs at bay.  World Market carries a wide array of screen domes, starting as low as $6 for a set of three, but keep in mind that the pricier styles are a bit heavier and more likely to stay in place if a breeze kicks up.
Serving pre-bottled drinks, rather than mixed cocktails, leaves you free to enjoy the party.   These days, you can find everything from sparkling juices and waters to pre-mixed mudslides and margaritas in individual-sized cans and bottles, so give yourself a break from bartending and toss a variety of drinks on ice in a beverage tub.  Place the tub on a stand or table so guests won't have to bend over and risk throwing out their back or flashing the party – either one a possibility depending on the age crowd you run with.   Target carries these tubs and stands every summer, and they're great to use indoors during cooler months if you run short on table or bar space in your home.
Nothing says summer like the Ice Cream truck!  Create your own "truck" and treat guests to a fun dessert by tucking a cooler into a wheelbarrow or a child's wagon.  Stock the cooler with a variety of frozen treats straight from the frozen food aisle, then wheel it out at the end of the meal so guests can "order" their favorite sweet.  This hands-off dessert idea also makes it easy to cater to all of the dairy-gluten-nut free diets out there, as you can offer soy-based and frozen fruit treats alongside traditional ice cream favorites.
A Summer Necessities basket is a thoughtful touch at any outdoor gathering.   Stock it with plenty of sunscreen and bug spray so guests can help themselves as needed.  Keep it in plain sight, but away from the food stations, so overzealous sprayers don't contaminate the buffet!  Include a few wide-brimmed hats like a legionnaire hat or visors if you're entertaining during the day and don't have quite enough shade to go around.  And if small children will be attending, having bubbles and sidewalk chalk on hand will win you big points with your shortest guests – and their grateful parents.
For more outdoor entertaining ideas, visit www.WestchesterDecorator.blogspot.com
[blockquote class=blue]Kitty Burruss is a wife, mother, and interior designer.  She and her husband entertain outdoors nearly every weekend during the summer months – her husband grills his famous burgers, and she does pretty much everything else.[/blockquote]