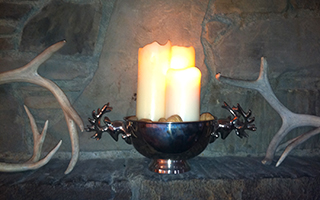 When I was growing up, my parents threw an annual Christmas party for our entire neighborhood. In the weeks preceding the big event, my mother stayed up all hours of the night writing out invitations, baking hundreds of cookies, and adorning every inanimate object in our home with greenery, ornaments, and holiday décor.  
At right, Cluster candles of different heights together in a tray or decorative bowl to create an easy, elegant accent appropriate for all of the holidays.
To my eight-year-old mind, the clumps of silvery tinsel, the scratchy evergreen garlands draped up the bannister, and my mother's hankie panky sandwich hors d'oeuvres (a bite-sized concoction of Velveeta and sausage on cocktail rye) were all the height of holiday party sophistication.  And in the early-eighties Midwest, they were!
Over the years, I've managed to hold on to some of my family's entertaining traditions, while tweaking a few of the decorating ideas.  In a season that encompasses so many holidays and excuses to celebrate, I believe it's best to keep it (relatively) simple when it comes to decorating and entertaining.  It's comforting to have a few reliable tricks to bring a bit of holiday magic to your annual gatherings, whatever they may be.
Set the tone for your holiday get-together with proper invitations.  In the age of the evite, a handwritten invitation stands out and lets people know that your party is going to be one of a kind.   Whether you're having just a handful of people to an intimate dinner party or the whole neighborhood over for New Year's Eve, a real invitation sent through the mail feels so much more festive than another email cluttering up an inbox.  Try using a winter-themed rubber stamp with a shimmery gold ink pad to transform plain stationary into simple, elegant invites.   If you're sending out more than a dozen, save time by typing up and printing out the essential party info on card stock.  Then let the kids decorate each card with glitter and metallic markers or dress them up yourself with a simple hole punch to the top and a colorful ribbon tied in a bow.  Your invites needn't be expensive or complicated; the mere tangibility of a proper invitation is exciting enough!
I like to create a cozy, yet glamorous atmosphere in my entryway with soft candlelight so arriving guests are instantly transported into party mode. Turn off any overhead lighting in your foyer and see if you can get by with just candlelight. A cluster of candles of varying heights all grouped together on a tray is an easy and effective decoration. Place the tray on a console in the front hall, preferably near a mirror so the candlelight reflects around the room. You may place a wax warmer at the center of the table to add your favorite scent in the room. For a little extra shimmer, use a framed mirror as your tray.  If you're after a cozier look, tuck in a few pieces of greenery, some walnuts, or pinecones to ground your candles.
Keeping your decorations simple doesn't mean you have to miss out on any of the season's glamour.  My favorite holiday trick is to buy up a bunch of long fake branches from the local craft store and coat them with a few rounds of metallic spray paint in gold or silver.  Cluster the painted branches together in large vases or urns and place them around the party.  I like grouping them in three vessels of various sizes in the center of a round table or placing a pair on a sideboard or mantle.  These simple arrangements add shine and high drama to any tablescape and work nicely for Hanukkah, Christmas, or New Year's Eve celebrations.  Best of all, they don't require any watering or maintenance, and they store away nicely when the season is over.
Food and drink are the stars of any party, so make sure your treats are presented accordingly.  The key to a pretty food and drink presentation is to set up your buffet or bar with dishes of varying heights, sizes, and finishes.  Use small stacks of books or pretty wrapped (and sturdy!) packages to elevate serving platters to different heights.  Set out bite-sized sandwiches or fruit on a multi-tiered cake stand, and scatter nuts and chips in small bowls to encourage guests to try a little bit of everything.  Layering your food spread has the same effect as decorating a room with furniture of different heights; it keeps the eye moving along from one level to the next and makes even the simplest of appetizers look elegant.
A printed menu listing all of your cocktail options and snacks is another special touch that lends a real sense of occasion to a party.  For continuity, create your menu with the same materials you used for your invitations, then place it in an empty picture frame and set it out on your bar or buffet.
The most important element of your party is the guests you bring together!  Pass around a guest book during the party, but don't just ask guests to sign it.  Write up a specific question at the top of each page, so guests can share more than just their name.  Keep topics in theme with the holiday you're celebrating, but general enough that everyone is sure to have a memory to contribute. Questions like "What is your favorite holiday food?"  or "Who did you first kiss on New Year's Eve?"  all stimulate conversation and bring up happy memories for your guests.  You might learn something new about Aunt Marcia or the next-door-neighbor you've known forever!
Later, you can fill any remaining empty pages of the guest book with copies of your pretty invitation, custom menu, and pictures taken during the party.  You'll have a lasting keepsake of your special event – and of all the beautiful touches you brought to it!
[blockquote class=blue]Kitty Burruss is an interior decorator, wife and mother.  [/blockquote]