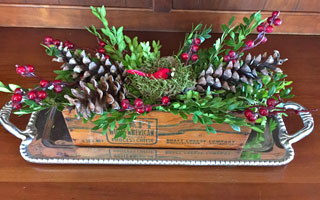 A beautiful centerpiece is always  an important part of the holiday meals that are now just around the corner.  When sitting down to enjoy Thanksgiving dinner, light the Menorah candles, or tuck into a Christmas feast, the tablescape sets the tone for these cherished shared meals and celebrations.
But if you're hosting the big dinner, the days leading up to it are often already packed with grocery shopping, prep-cooking, and pulling out the serving dishes from the far back reaches of the china cabinet.   Who has time to fuss with a centerpiece just before the big day? This year, create a beautiful one well in advance of the holidays that will last the whole season and can be easily re-styled to carry you from Thanksgiving into Hanukkah or Christmas.
To begin, choose the vessel you'd like to use to display your centerpiece.  A silver bowl or urn will look elegant for formal dinners while something more rustic, like a woven basket or tin planter, will give you a more casual feel.  Once you've selected the right size vessel, you will know how much "filler" you'll need for it and can begin collecting and preserving it.
You can likely find everything you need to create lasting decorative filler in your own front yard and the local Walmart, though a craft store like Michael's or even Amazon.com also carry these supplies.  You'll need miniature gourds and branches of greenery, such as boxwood or evergreens you can clip from your yard or a generous neighbor's.  You'll also need regular bleach, a clear acrylic protective spray, and liquid glycerin – all items easily found in Walmart or on Amazon.com for $5 or less.
To make your gourds last as long as possible (up to several months, in fact!), rinse them at the sink, then let them soak for at least 30 minutes but up to overnight in a solution of 2 Tbsp of bleach with one gallon of water, plus a squirt of regular dish soap.  After they've soaked, pat them dry and allow to air dry a day or two until they are completely dry.  With this treatment alone, they should last 3-4 weeks, but if you'd like them to last even longer, spray them with the acrylic protective spray.
Every centerpiece needs a little greenery, and once you remove the gourds from your centerpiece after Thanksgiving and style it for Hanukkah or Christmas, the greenery becomes even more essential.  I used boxwood for my centerpiece, as that's what I have in my yard, but any evergreen will work.  You can use a simple solution of 2 parts water with 1 part glycerin – a humectant that will replace the moisture in the branches' stems and leaves.   Trim the branches' stems on an angle until they are the right length for your display, then pull off a few leaves from the bottom of the branch, leaving the stem exposed.   Using a hammer, mash the end of each stem just a little to help the branches absorb the glycerin solution. Place the branches in a glass or plastic container with enough of your water-glycerin solution to cover the exposed ends of the branches.  Don't pack them too tightly, or the stems may become moldy. 
Next, allow the stems to soak up all of the solution, which can take anywhere from 3 days to a week, depending on the length of your stem.  Then rinse your branches and let them air dry before using them in your arrangement.  If you need your centerpiece ready sooner than this process allows – the point is to have it ready way in advance, after all! – just clip plenty of extra branches and place a few unpreserved pieces of greenery in your arrangement as placeholders until your preserved ones are ready.  Unpreserved greenery should hold up long enough to serve as a nice placeholder while your other stems are treated to last.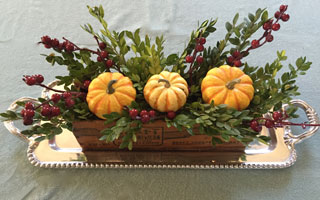 When you have treated your gourds and greenery, it's time to arrange them in your vessel!  Use crumpled up newspaper to ill the bottom of your vessel if it's too deep for your decorative pieces, and feel free to add a little color in the form of fall foilage or even a few faux bittersweet or berry branches. This is a typical decorator's trick – to mix faux with natural elements for a more realistic look.  Soon, you'll have a gorgeous centerpiece you won't need to fuss with when you should be focused on the turkey!
When Thanksgiving has past and it's time to decorate for the next holiday, simply remove the gourds and replace them with more wintery elements like pine cones, bare branches sprayed in silver and gold, or even faux white roses.  For Christmas, add a few branches of red berries for a pop of seasonal color.  For Hanukkah, try displaying blue and white dreidels among the preserved greenery and sprinkle pieces of gelt throughout for a centerpiece the kids will love!
The preserved portions of your centerpiece should last for up to three months – and the entire thing should cost less than the price of one generic grocery-store bouquet.  Spend a little time crafting it now, and enjoy it throughout the season!
Kitty Burruss is an interior designer, author of the design blog www.WestchesterDecorator.blogspot.com,  and her family's official Thanksgiving hostess.  Her turkey day centerpiece is already on the table!