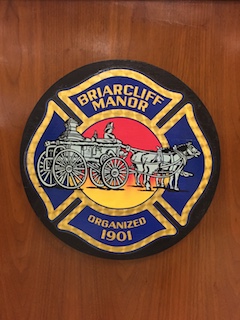 River Journal posted the following release from Mayor Lori Sullivan which was verified by Village Manager Phil Zegarelli earlier this summer at RiverJournalOnline.com. We recently met with Mr. Zegarelli to discuss how the Village has moved forward to ensure continued fiscal soundness and integrity within the Fire Department.
Posted to RiverJournalOnline.com:

On July 2, 2018, former Briarcliff Manor Fire Chief and Treasurer Michael Garcia pleaded guilty in Federal Court in White Plains in connection with the misappropriation of Briarcliff Manor Fire Council and Fire Company funds.  The investigation that led to this plea bargain commenced in September of 2017, upon our discovery of initial indications that a misappropriation may have occurred. At that time, the Mayor and Village Board of Trustees immediately notified the Briarcliff Manor Chief of Police who commenced a full investigation of this matter.  Simultaneously, a full outside, forensic audit was engaged through our Village Counsel to review and analyze the scope of the misappropriation.  A final report has been received wherein numerous recommendations were offered to correct lapses in Fire Council oversight, many of which have already been implemented.

Our Police Department worked closely with the FBI and the US Attorney's Office on this thorough and extended investigation to determine the full breadth of the misappropriation and to bring the appropriate party to justice.  We are relieved to confirm that the missing funds did not include any tax revenue received from our residents and property owners.

We remain grateful to our Police Department and Village Staff, as well as the Federal authorities in their dogged pursuance of justice in this matter.  Unfortunately, this type of criminal activity has become all too commonplace as we have followed similar events in other municipalities in the Hudson Valley.  It is all the more discouraging that our Volunteer Fire Department and its Fire Companies as well as our Ambulance Corps have suffered at several levels as a result of the actions of an individual in a leadership position.  We thank and fully support the brave community-minded volunteers who continue to keep our residents and businesses safe and pledge to work with the Village's Fire Council to help ensure that such an event is not repeated in the future.

I verify that this is an official statement authorized by Briarcliff Manor Mayor Lori A. Sullivan.

Philip E. Zegarelli, Village

Manager

3 July 2018

We asked Phil Zegarelli how this situation could have happened, and he responded that due to all the opportunities with computers, programs and the ease of moving information and money on the internet, the annual paper audit is a thing of the past. "Twenty or thirty years ago what Robert "Mike" Garcia did would have been very difficult to cover up," he said. He went on to say that there are 3 Chiefs within the Briarcliff Manor Fire Department and it is common for the 2nd Assistant Chief be the Treasurer for a period of 2 years. Garcia was in fact a Treasurer for 4 years until he became Chief. It was at that time that the new 2nd Assistant Chief discovered serious discrepancies in Fire Council monies. Fire Council monies come from donations, fundraisers and Section 209-D, which is payment for firefighters going outside their villages to help other departments. Briarcliff Manor maintains contracts of 209-D with the Town of Mount Pleasant and the Town of Ossining. The Village receives the full amount of the contracts and transfers the limit (35%) to the Fire Council.

"When it was discovered in late September 2017 that money had been "misappropriated" (or, more bluntly put, embezzled), it sent a thunderbolt that ripped people's hearts out in the Department. In a place like this that just doesn't happen," Zegarelli said. The FBI along with forensic accountants put the amount Garcia took at $120,000, however, that amount is a conservative one.

One year later finds the Village with new accounting protocols within the Fire Department. Former Chief Mike King has been asked to return. The Mayor and Village Board are confident that they are in the 95th percentile with regards to proper accounting. The Department itself agrees that what happened was a total aberration and is not representative of who they are and what the Village of Briarcliff Manor stands for. Morale is high, as is membership.

Yet, there is no celebration on this event's 1st Anniversary.