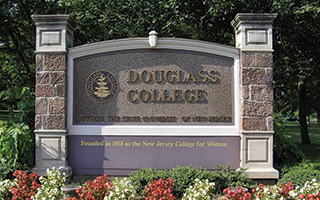 Just over 95 years ago in 1918, New Jersey College for Women opened its doors to 54 women. Although uncommon at that time, they were seeking something much overdue—the opportunity for a college education. 
Today, Douglass Residential College at Rutgers University/New Brunswick, The State University of New Jersey, offers an unbroken legacy of a long line of women leaders. Rutgers is the only major public research university in the nation to offer students the opportunity to join a women's residential college. Through innovative career development programs, leadership opportunities, scholarships, and living-learning opportunities, Douglass is an enhancement to a top tier education. Combined with a world class education at Rutgers and the small community at Douglass, students get "the best of both worlds."
Douglass provides opportunities for students that lead to academic and career success.  Students explore global issues, prepare for 21st century careers, work side-by-side with faculty on research, and fully engage in social and co-curricular activities at Rutgers—all features that enhance learning and career development.  Students can choose from an array of leadership opportunities, clubs, and student chapters of national and international organizations.
In support of Douglass' mission to help students become global citizens, in 2013, Douglass formed the first U.S. college chapter of the American Friends of the United Nations Population Fund, the U.N. agency committed to the dignity and health of girls and women.
In the Fall of 2013, Douglass welcomed 500 incoming Rutgers women, bringing the Douglass enrollment to just over 2,000 students.  After completing a one-year residency requirement, Douglass students can choose to remain on the Douglass Campus or move off-campus or to other campuses at Rutgers/New Brunswick. A portion of Douglass students are commuters and the College has programs for them.
In the words of students, Douglass offers a small, safe, and exciting community with the great Rutgers University.
Douglass staff and peer leaders understand the transitions, career, social, and academic issues that students face throughout their undergraduate lifecycle at Rutgers University.  And, Douglass is one of the most diverse student bodies at Rutgers, rich in its broad representation of different races, religions, countries of origin and backgrounds.
"Students from every academic school can choose Douglass to enrich their Rutgers education, creating an intellectual synergy in our living-learning environments" said Dean Litt, who is the current and 10th Dean of Douglass. Douglass enrolls students from the schools of engineering, arts and sciences, pharmacy, business, communications, Mason Gross School of the Arts, and environmental and biological sciences.
Recognizing the importance of connecting students to corporate and career opportunities the Douglass Project for Rutgers Women in Math, Science, and Engineering developed an industry mentoring program that provides wide range of opportunities.  The Extern Program, run in collaboration with the Associate Alumnae of Douglass College, matches students with extraordinary alumnae women in leadership positions in fields such as law, non-profit advocacy, science, technology, education, business, performing arts, international relations, and more.  Students build their network, leadership experiences, and resumés as they connect and learn from these incredible mentors.
With the large number of students interested in the Sciences, Technology, Engineering, and Math (STEM), the Douglass Project for Rutgers Women helps students in these fields to excel and reach their goals. Partnering with Rutgers' science and engineering schools, cutting edge
programs are developed to advance women in STEM. The Bunting-Cobb Residence Hall offers an exciting and supportive residential community to women, featuring graduate mentoring, in-house tutoring and study groups, specialized workshops, and a special in-house "Exploring Careers in Science" course.  Another residential option for women majoring in engineering is the Douglass Engineering Living-Learning Community, which is uniquely located on the Busch campus.  This community provides first-year engineering students the chance to live together and take a hands-on engineering course together with a Rutgers faculty member.
Also at the Douglass Project, research opportunities like Project SUPER (Science for Undergraduates: A Program for Excellence in Research) offer scholarships for students to engage in research with faculty. Students in Project SUPER have access to monthly STEM-related workshops, an introductory scientific research course, a research stipend for summer research, special STEM travel grants, and exceptional academic support.
Most students join Douglass as incoming students, but students in any year at Rutgers can and do choose to join Douglass. Douglass is open to both commuters and residential students.  For students who live on campus, Douglass offers housing options from traditional first-year residential facilities to apartment-style living.  A hallmark of Douglass is the varied living-learning communities and the signature Global Village.  Global Village Living-Learning Communities are clusters of students who live together and share a course, a specific culture, language, or topic, such as "Women in Business," "Spanish House," "Human Rights," "LEAD House," and  "Women and Creativity."
In 2013 a new living-learning community – the "Environmental House" – opened, which added to the over 10 living-learning community options at Douglass.  Women in the Environmental house learn about the environmental challenges facing local communities and global society, and work together to identify solutions and create programs that address these problems. In addition to a 1.5 credit house course each semester, during spring break the Environmental House residents will participate in a study trip to learn, first-hand, about food security, environmental rights issues and environmental sustainability, in the context of community service and activism. Open to sophomores, juniors, seniors and transfer students, this is just one of the many Global Village Living-Learning Communities at Douglass.  In the Fall 2014 another new house – focused on women's health and wellness – will open to first year students.
End of Part I …Part II in January Issue
To learn more about Douglass Residential College at Rutgers University, visit: douglass.rutgers.edu;
email: visitdc@echo.rutgers.edu; call: 848-932-2541;
Facebook, Douglass Residential College; Twitter, @RUDouglass;
Instagram, RUDouglass.