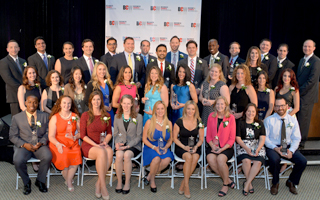 The Business Council of Westchester Presents Awards to "40 Under 40' Winners . Forty of Westchester County's up-and-coming business leaders received the 2015 "Rising Star" Award from The Business Council of Westchester. In presenting the awards to the next class of winners, BCW President and CEO Marsha Gordon said the honorees are some of the finest young talents in the region and exemplify all that's great with Westchester's business community.
"Westchester has one of the most highly educated workforces in the country, and we know that CEOs, entrepreneurs and business owners are looking for young and talented professionals. They are seeking people like you," Gordon told the honorees during her remarks at 800 Westchester Avenue in Rye Brook. "What's great about the Rising Stars program and our winners is that they are a reflection of the community. They are reflection of the creativity, drive, energy and can-do spirit of the young professionals in Westchester County."
This year's winners represent a wide-range of professionals from various backgrounds including marketing, advertising, public safety, government, media, health care, education, social work, hospitality and nonprofits, among others. The selection process was competitive and led by Maria Bronzi, Director at Altium Wealth Management. Bronzi, who is chair of the Rising Stars program, received "40 Under 40" honors in 2011.
During the ceremony, County Executive Robert P. Astorino commended The BCW and the Rising stars program, saying that each has strengthened Westchester and its business climate.
"This annual reception is a Westchester tradition, but the Rising Stars program has become a Westchester institution. It is part of what makes this county a special place to live and work," said Astorino. "The Business Council appreciates talent.  Westchester has a lot of it, which is why this award is so coveted. And the Business Council cultivates talent, giving our young professionals the resources they need to thrive in their careers. Thank you to the Business Council for conceiving of the program and growing it over the years."
News12's Tara Rosenblum, who earned "40 Under 40" honors in 2007, was the emcee. Michael J. Fosina, Senior Vice President and Chief Operating Officer of New York Presbyterian/Lower Manhattan Hospital, gave the keynote address.
The awards were given out on June 11 at 800 Westchester Avenue, Rye Brook. The annual awards ceremony is modeled after the national business recognition program "Forty under Forty" and Rising Stars is specifically designed to recognize individuals under the age of 40 who exemplify leadership, foresight and a vision for the future of Westchester County. Winners were selected based on professional and/or entrepreneurial accomplishments, demonstrated leadership qualities and professional and/or business affiliations.
The 2015 Rising Stars are as follows:
Jessica Antonette, CEO/Owner, JTonezMusic Corp.
Jennifer Bannan, Director of Advertising & Marketing, Thompson & Bender
Vincenzo Battaglia, Police Sergeant, White Plains Department of Public Safety
David Buchwald, New York State Assemblyman
Donvil Collins, Founder & President, VeeKast
Andrea Contreras, Manager, Client Services, Altium Wealth Management
Anthony D'Arpino, Founder & Owner, Harrison Wine Vault
Andrew  Edge, AVP – Business Banking & Commercial Lender, Sterling National Bank
April Fatato Grundman, Onsite Owner and Educational Director, The Goddard School Yorktown
Bonnie Fogarty, Executive Director, Community YMCA
Megan Gann, Business Development Manager, Westchester Hills Golf Club
Anna Geller, Director, Business Analysis & Acquisitions, Deutsch Family Wine & Spirits
Richard Giacovas, Producer/on air talent, News 12
Jeffrey Hogan, Energy & Sustainability Manager, Montefiore Hospital
Kelvin Joseph, Chief Operating Officer, Steiner Sports
Nikhil Kumar, Vice President, Undergraduate Enrollment Management, Manhattanville College
Ashley Ley, Technical Director, AKRF, Inc
Anthony Luisi, Associate, Cuddy & Feder LLP
Kimberly Mallard, Senior Vice President, Executive Operations, Tommie Copper
Anna Linda Marciano, Assistant General Counsel, Heineken USA, Incorporated
Ryan McAuliffe, Vice President, M&T Bank
Jaime McGill, Executive Director, Yonkers Industrial Development Agency
Alan Murray, Chief Executive Officer, North Shore-LI CareConnect Insurance Company, Inc.
Erin Nesbitt, Director, Program Management, Regeneron Pharmaceuticals, Inc.
Jessica Oliva, CEO, Fit Mama 4 Life
Jill Ortiz, VP Finance & Accounting, Diamond Properties
Linda Parry, CEO, Product Launchers
Christopher Phillips Senior Vice President, Product Platform and Technology, Mindspark Interactive.
Regina Poniros-Simonetti, Controller, Robert Martin Company LLC
David Putrino, Director, Telemedicine and Virtual Rehabilitation, Burke Medical Research Institute
Amit Rajani, CEO, General Dentist, Yonkers Avenue Dental
John Rubbo, Founder and "Brew-EO," Yonkers Brewing Company
Eliza Scheibel, Associate, Wilson Elser
Timothy Schlauraff, Department Manager, Consolidated Edison of NY
Jamell Scott, Dean of Scholars and Families/Athletic Director Amani Public Charter School
Diana Seo, Owner, B Spa & Salon
Nicholas Singer, Managing Member, Purchase Capital
Loren Ward, Vice President, Financial Advisor, Merrill Lynch
John White III, Firefighter, City of Yonkers Fire Department
Eleni Zimmerman, Social Work Advanced Clinician, NewYork Presbyterian Hospital – Eating Disorders Unit
[blockquote color=blue]The county's largest and most influential business membership organization, The Business Council of Westchester is committed to helping businesses market, learn, advocate and grow. In addition, The Business Council of Westchester is actively involved in reviewing federal, state and county legislation and regulations in order to assess the potential impact on the business community and to influence the outcomes through advocacy when the business community's interests may be affected. It also acts as an information resource for the business community and government leaders at all levels. [/blockquote]