The Music Hall will be showing a lot more classic films this fall!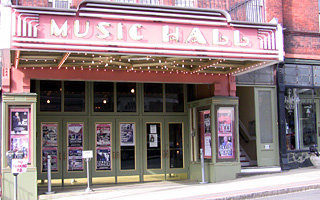 A new classic film series born out of a partnership with Suffern's Lafayette Theater will make its debut at the Music Hall on September 21 with a showing of The Godfather. The series, called Big Screen Classics At The Music Hall, will feature films such as The Phantom of the Opera with live organ accompaniment, Gigi, and Goldfinger every other Tuesday night.
The Lafayette has built up a tremendous following in Rockland County over the last couple of years and Björn Olsson, the Director of The Music Hall, is hoping movie buffs in Westchester will come and enjoy these classics in Tarrytown as they were meant to be seen, on the big screen! Although The Music Hall was built in 1885 before movies were even invented, and is today mainly a live performance space, it has a long history of being the movie theater of choice for generations of locals. The Lafayette was built in 1924 as a movie palace and is the area's only single screen theater showing the best in first run and classic films.
The existing classic film series programmed by David Schwartz, Chief Curator of the Museum of the Moving Image, will continue as before, so stay tuned for an exciting fall for film lovers!
Spearheaded by Tarrytown residents Robert Fischer, Dean Gallea, Greg and Fiona Galloway, Patricia Pinckney and many others, films were brought back to the Music Hall in 2004.
In August, the Music Hall screened The African Queen and Mary Poppins and staged several concerts. It was also busy behind the scenes making movies. Alicia Silverstone shot the film Sister Spirit and Wynton Marsalis and musicians of the Jazz at Lincoln Center Orchestra recorded the sound track for the new silent film Louis that chronicles the life of Louis Armstrong.
Cited an "American Treasure" by the US Senate, the Music Hall is celebrating its 125th season. Coming soon will be live performances by Petula Clark, Brandi Carlile, Nick Lowe and his Band, Tower of Power, Aimee Mann, Cherish The Ladies, Johnny Winter and Hubert Sumlin, and many more including Gala events that will be announced shortly. Visit  HYPERLINK "http://www.tarrytownmusichll.org" www.tarrytownmusichall.org for a full schedule.