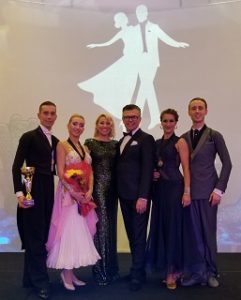 Tarrytown dance professionals Vitalii Kaliuzhnyi, Artem Belmeha, Anna Shevchenko and Alex Rondol from Fred Astaire Dance Studio of Tarrytown will perform at the 2018 Macy's Thanksgiving Day Parade. The local ballroom dance professionals will join other Fred Astaire Dance Studio pros from around the nation to perform a few quick steps as they walk, then perform a routine in front of Macy's Herald Square.
"This is a tremendous honor for our dancers and our studio," Sasha Bylim, owner of the Fred Astaire Dance Studio in Tarrytown said. "Fred Astaire Dance Studios began in New York City more than 70 years ago, so being invited to be a part of the biggest parade in the world in the city where it all started is incredible!"
With the time-honored phrase, Let's Have a Parade™, the Macy's Parade begins for more than 3.5 million spectators in New York City and more than 50 million television viewers nationwide. Since November of 1924, it has enthralled the nation and become synonymous with the start of the holiday season. The 92nd edition will feature 16 giant character balloons; 43 novelty balloons, heritage balloons, balloonicles, balloonheads and trycaloons; 26 floats; 1,200 cheerleaders and dancers; more than 1,000 clowns; and 12 marching bands.
The parade will air locally on NBC beginning at 9:00 AM EST Thanksgiving day.
For more information on the Macy's Thanksgiving Day Parade, visit www.macys.com/social/parade.
For more information about Fred Astaire Dance Studio in Tarrytown, visit www.fredastaire.com/tarrytown.