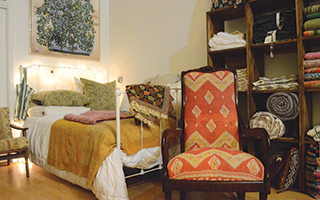 Unique, hand-made items always make the best gifts, especially with the holidays coming up. Nine Streets New York, located in Tarrytown, offers a wide selection of lifestyle pieces from all around the world.
Mother-daughter duo, Esther and Lidy de Hollander opened their store in July. Esther said it's been a dream of theirs for almost 15 years and after years of working with magazines, books and online, it was time for a change.  Ester  worked with interior design while in the publishing industry. She went from trend forecasting to owning her own local and online shop. "Why does there always have to be a next cool thing?" Esther asked. "I wanted to focus on things that can exist, have value and continue to be valuable and worthwhile."
Nine Streets New York doesn't have anything that is mass-produced. "We really believe in supporting indigenous designers," Esther said. "I'm really passionate about this stuff. That's the luxury of having a small store, you get to know things intimately."
The store offers a wide range of "lifestyle" products at a variety of prices, great for the upcoming holiday season. They offer everything from handcrafted artisan stationery and vintage bottle openers to unique bedding and vintage chairs reupholstered with fabric imported all the way from India.
Esther also said her "family is deeply passionate about animal rescue," so every third Friday she and her mother donate 10% of their sales to a local animal shelter. In addition, for the month of November, the store is offering 25% off all bedding.
For more information, you can stop by Nine Streets New York in Tarrytown at 36 1/2 Main Street or visit them on the web at www.ninestreetsny.com. Tel. 914-418-4044.