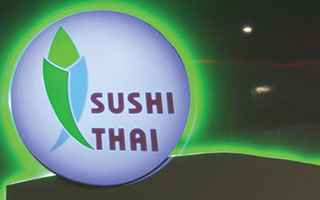 A very exciting restaurant recently opened in Tarrytown and the excitement comes not only from the  interior design which is very stylish, but from a varied menu of tasteful choices that give the words "Asian Fusion" true meaning.
Sampling their menu one can choose from a Vietnamese Salad to a Crispy Hot Beef dish from the Wok N'Grill. There are Homemade Pork Dumplings with balsamic vinegar sauce and shitake mushrooms. From the Sushi Bar comes Omakase which is the Chef's daily inspiration. Additional Sushi and Sashimi choices abound on an extensive menu, which includes appetizers and entrees from throughout Southeast Asia.
Outdoor dining is available and regardless of patrons' choices they will be excited by the freshly prepared foods, attentive wait staff and reasonable prices. Sushi Thai is a great new destination in Tarrytown.
Sushi Thai is located at 53 North Broadway in Tarrytown. Telephone 914-366-8818/8828/8838 or visit them at www.SushiThaiTarrytown.com