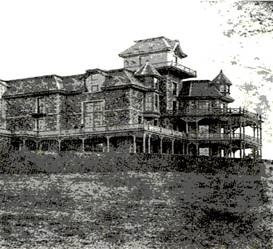 Greenburgh has had many grand estates. Some like the Warburg Estate in Hartsdale, built in 1902, have stood the test of time and are still standing. Other's like the artist Albert Bierstadt's home, Malkasten, in Tarrytown, have disappeared. This is the story of the rise and fall of Malkasten.
Albert Bierstadt was born in Solingen, Germany in 1830 and raised in New Bedford, Massachusetts. He always had a passion for art, and after graduating high school he began drawing, but what he really wanted to do was to paint. So at the age of 23, against his father's advice, he sailed to Dusseldorf, Germany to study painting with his idol Emanuel Leutze, the artist who painted General Washington Crossing the Delaware. However, Leutze declined to teach him after seeing the quality of his drawings.
He stayed in Germany for three years looking for a teacher, but ultimately decided that Germany was not the best place for him to continue his studies, so he left for Rome. He finished art school in 1857 and returned to the United States.
In 1859, he went on an expedition to survey the West. As a result of this expedition he created his most famous work Rocky Mountains (1863). After he was given $25,000, what was then the highest amount of money ever paid to an American artist, for this painting, he realized in order for him to create high quality art, he needed to be close to nature.
Accordingly, in 1866, he commissioned the architect Jacob Wrey Mould to create a grand estate overlooking the Hudson River. Bierstadt chose a location which was then in Irvington, but is today part of Tarrytown. The estate was called Malkasten, the German word for painter's box. When finished, the impressive blue/gray gneiss and granite trim structure was 75ft wide and 100ft long. The kitchen, dining room and billiard room were on the first floor, the parlor and the library/music room were on the second floor and the bedrooms were on the third.
In contrast to the cold stone of the fortress looking exterior, Malkasten's interior was entirely made of wood as can be seen below from this picture of Bierstadt's dining room.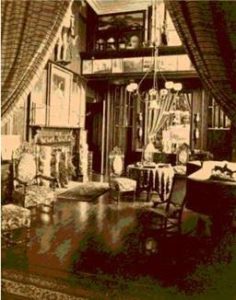 While living in Malkasten he painted more fine works of art including Merced River (1866), and Yosemite Valley (1866). Malkasten burned down in 1882. Bierstadt died in 1902, but most of his works, except for those destroyed in the fire, are on display at the Metropolitan Museum of Art and therefore live on forever.