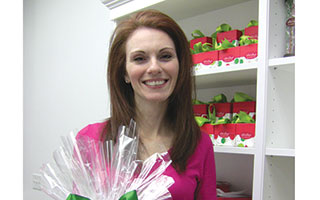 Sweets with style… That's exactly what you'll find upon entering Tarrytown's newest, and may we say absolutely adorable, sweet shop.  One step into this bright and colorful little chocolate shop and you will quickly fall in love with Posh Pretzels. Longtime resident and owner, AnnMarie D'Erasmo, will not only greet you with her warm smile and outgoing personality but with yummy samples in hand ready for the tasting.  Posh Pretzels specializes in rich French and Belgian chocolate-covered pretzels, graham crackers and cookies with much more in store. 
Classics are always available but AnnMarie's flavor collections are what makes this gem a standout. Mouthwatering Peanut Butter Crunch, Sea Salt Caramel with Toffee, and Banana/ Walnut/Peanut Butter smothered on crunchy, salty pretzels are
simply the beginning. As the Posh Pretzels slogan states… The Poshibilities are Endless!
Posh Pretzels, exclusively available at the renowned Bergdorf Goodman on Fifth Avenue in New York City, has rapidly gained celebrity recognition.  Posh Pretzels has appeared on WeTV's CELEBrations with David Tutera, is a participant in the Dream Bigger Tour with David Tutera this month, and will be a participant in the 2015 Oscar Awards Ceremony for the best actor and actress categories as well as gifting for the Oscar host.
Posh Pretzels are ideal for gifting and have quickly become the go-to client gift for corporations throughout the United States, including Community Capital Bank, Perillo Tours, Information Technology Systems and too many airlines to count.  Posh Pretzels carries exquisitely packaged gift boxes and platters ranging from $15 to just about anything imaginable, as customization is always an option, for every event and occasion. No order is too big or small and no detail is ever spared by this fastidious owner.
The Christmas and New Year holidays bring a bit extra to Posh Pretzels.  Items such as homemade chocolate-covered pizzelle's have become a highly anticipated specialty, ideal for holiday gatherings – only available during the holiday season, so place your orders now!  Oh, and if you are really looking for that extra special treat, try the Posh eggless cookie dough bites infused with nuts and dipped in, you guessed it, more chocolate!  Each scrumptious bite set on a beautifully embellished chocolate spoon!  This specialty platter is made to order and available for pickup only so preordering is a must.  Lucky for us, in just a few short weeks, customers will also be able to pop in to purchase their favorite sweets one piece at a time or by the pound.  Mmmm…We can't wait!
Come for one, come for a dozen, but definitely stop by the sweetest shop in Westchester. Smell and taste the chocolate pretzels at Posh Pretzels located at 7 North Broadway in Tarrytown, New York.  Take a moment to visit www.poshpretzels.com, send an email to shopposhpretzels@verizon.net or call 914-332-0400.  You'll certainly find them imposhible to resist!