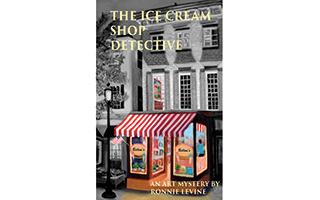 "It seemed to me I was living a pretty interesting life," says artist/writer Ronnie Levine, "and with a little bump-up of mystery, adventure, and budding romance, it would make an enjoyable read."  Her fictional story of art forgery and murder has roots in her years of studying art, including a period in which she did copies at the Metropolitan Museum, and in her many conversations with (now retired) Detective Sergeant Eugene Buonanno at Tarrytown's Main Street Sweets, the ice cream shop owned by his family. 
The book also grew out of her teaching, and is a way she feels she can share with many people her joy about painting in the beautiful Hudson Valley.
While the real cop shares many characteristics with the one in The Ice Cream Shop Detective, the events in the book are completely fictional.  In it, charismatic policeman Nick Bellini asks artist Lissa Franklin to keep her eyes open for phony masterpieces he's heard are being produced in Tarrytown. She hesitates, but takes the plunge and soon finds herself dealing with
possibly-duped elites as well as the local creative community. Arriving early for an Artists' Guild meeting one cold night, she's horrified to find the body of another artist in his garage-turned-art-studio on Kaldenberg Place. Now she's in the middle of Nick's hunt for a killer, and a possible target herself.
Levine is familiar to many as a painter who works on location in Tarrytown, mostly on Main Street and Broadway. Many of her conversations with Sgt. Buonanno took place when she worked on the front section of the mural in Main Street Sweets.  "Others were also interested in what I had to say about how I work and my lack of enthusiasm for the emphasis on provocation and irony in contemporary art," she says. "My book is both a mystery novel and my take on how to tell a great painting from a less-inspired copy. It's also the story of two people, who've both been burned in relationships, taking tentative steps towards another chance at love."
The book has been available on Amazon.com in digital form since February, and is now also available as a softcover book. Locally there will be copies on sale at Main Street Sweets, Bella's Boutique (which also sells reproductions of her paintings), and Harnick Jewelers, all in Tarrytown.
Readings/ book signings are scheduled at Main Street Sweets on Friday, July 11 at 7 p.m., at Warner Library on Thursday, July 17 at 7 p.m., and at Bella's Boutique in the fall. This is Levine's first novel, but she has published many articles, mostly about art and people in the arts, in Westchester Magazine, local newspapers including River Journal, and local news websites.  The reading at Main Street Sweets is co-sponsored by The Hudson Valley Writers' Center, which is located in Sleepy Hollow.  "I feel so lucky to have found HVWC," says Levine, "where I learned to write something a lot more fun to read than it would have otherwise been.  It also gave me 'deadlines' for sharing my work with the great people I met there, and that helped me get the book done."
For more information, check www.theicecreamshopdetective.com, email the author at ronnie@theicecreamshopdetective.com, or call her at (914) 552-4148.