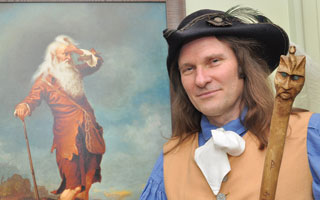 Washington Irving gave us the tale of Rip Van Winkle nearly 200 years ago, and the bearded, 20-year nap-taking Catskill native has been an icon ever since.
Now, master storyteller Jonathan Kruk will tackle this classic in Irving's Rip Van Winkle, a new Historic Hudson Valley event Saturday and Sunday, April 28 and 29.
Accompanied by mandolin and strumstick, Kruk will bring his lively style of dramatic storytelling to the Assembly Room of the non-profit's new headquarters and library at 639 Bedford Road in Pocantico Hills, NY just across the street from Stone Barns Center for Food and Agriculture.
"I'm delighted and excited to add Rip to my repertoire," said Kruk, who also performs The Legend of Sleepy Hollow and Charles Dickens's A Christmas Carol for Historic Hudson Valley audiences. "I want to capture the magic and wit of Irving's tale of America's most famous snoozer."
Hour-long performances in the round take place Saturday and Sunday, April 28-29, at 12:30, 2, 3:30, and 5pm. Admission is by timed ticket only. Seating is very limited and tickets should be purchased in advance at www.hudsonvalley.org or by calling 914-631-8200. Beverages and light snacks will be available.
Admission is $16 for adults and $12 for children 17 and under. Historic Hudson Valley members receive a $5 discount per ticket.
Historic Hudson Valley is a private, non-profit education and preservation organization. It owns and operates five museums of history (Washington Irving's Sunnyside, Philipsburg Manor, Van Cortlandt Manor, Union Church of Pocantico Hills, and Montgomery Place). The organization also operates public tours at Kykuit, the Rockefeller estate, a site of the National Trust for Historic Preservation.
You can find out more about the organization by visiting www.hudsonvalley.org or by calling 914-631-8200. You can also find Historic Hudson Valley on Facebook, Twitter, and Flickr (username: HHValley) and YouTube (username: InTheValley1).