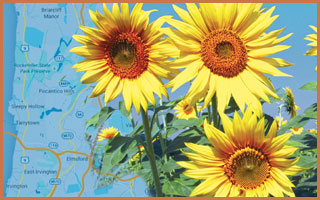 "Summertime is always the best of what might be," says it all. This quotation is from Charles Bowden, who was an American non-fiction author, journalist and essayist. While we make our vacations and summer plans, our village governments support local events, carry out ongoing projects and plan for new ones.
SLEEPY HOLLOW
From August 3-16, Sleepy Hollow is planning an event held at Edge-on-Hudson, near Sleepy Hollow Lighthouse, the former GM plant. Fly on the Trapeze provides 2-hour Westchester Circus Arts in Tarrytown, sister company to Amazing Grace CIRCUS! in Nyack, brings you the most unique community programs to amaze and delight you. Here, you can experience the greatest thrill imaginable: fly on a real flying trapeze rig…just like the big circuses use. When you sign up for a class you will be taught how to climb the ladder to the perch. Once harnessed in safely, the trainer will teach you how to grab the bar, when to pike, how to be "caught" and how to fall into the net. Bring a group of friends and have a blast in the air!
At Kingsland Point Park on August 7, the film "HOME" will be shown at 7:30 pm. Bring a lawn chair and blanket and enjoy the movie.
Also at Kingsland Point Park, on Sundays, August 2, 16 and 30, Lighthouse tours will be held from 1:00-3:00 pm. For more information, call the Sleepy Hollow Recreation Department at 914-366-5109 or rpell@sleepyhollowny.org.
On Saturday August 8, between 11:00 am and 5:00 pm, the Westchester Knicks, Funflatables, Gullotta House and the Village of Sleepy Hollow are hosting "Sleepy Hollow Family Fun Day" at Sykes Park. Come out for rides, food and drink, Westchester Knicks basketball games, face painting, raffles, DJ, fire trucks, Sleepy Hollow Police demo's, video gaming truck and pony rides – fun for, the whole family! Call (914) 366-5109 for further information.