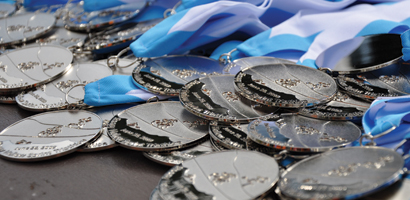 Registration for the Sleepy Hollow Sprint Triathlon is now open!  The race takes place on Sunday, June 13 beginning at 8:00 a.m. With the help of our dedicated volunteers and generous sponsors, last year's event was a huge success.
Those interested in participating, volunteering or sponsoring the 2010 Sprint Triathlon can register online at www.sleepyhollowsprint.com.  Proceeds from the event will benefit The Leukemia & Lymphoma Society's Westchester/Hudson Valley Chapter.
Sr. John Agnes Clancy, a Dominican Sister from Ardsley, New York and former patient of Sleepy Hollow Physical Therapy will be the oldest participant in this year's triathlon.  After receiving rotator cuff surgery, she was very eager to get back to her very active lifestyle and this will be her first competition since the surgery.  At the age of 73, Sr. John will be completing the entire race on her own, and with the help of her students at Maria Regina High School, she will be raising funds to support The Leukemia & Lymphoma Society.  She stands by the words of Eleanor Roosevelt, "We must do the things we think we cannot do."
The scenic course includes: a ½- mile swim off Kingsland Point Park beach; a 10-mile bike ride through Philipse Manor, Sleepy Hollow and Mt. Pleasant; and a 3-mile run along the shores of the Hudson River in Kingsland Point Park, including a loop around the historic Sleepy Hollow Lighthouse. Space is limited. so early registration is strongly encouraged.  The entry fee is $100 for individuals and $150 for relay teams.
For more information, call (914) 631-6969 or email veronica@sleepyhollowpt.com.