To sit across from John Kapica, the former Chief of Police for Greenburgh (he retired on November 28, 2009), one is immediately aware of the man's energy. At age 65 he has spent over 38 years in law enforcement having walked his first day on the "beat" as an entry level patrolman in 1971. A graduate of Mercy College's Criminal Justice program, John Kapica was promoted to Sergeant six years after becoming a police officer and it was shortly afterwards that his abilities were earmarked for administrative duties. He rose through the Greenburgh Police Department and held its highest rank for seventeen years.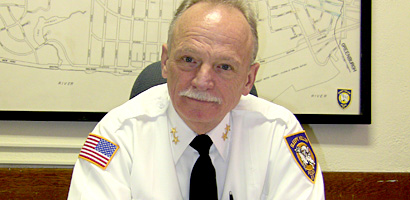 We asked Kapica what brought him out of a 3 month retirement to serve as Sleepy Hollow's Chief of Police. He responded, "The challenge of the position here in Sleepy Hollow and its short term. I like being retired." He has been hired for a period of one year with the option to extend his contract for an additional six months.
Establishing direction within the Department has been set as priority number one. All existing rules, regulations and procedures will be evaluated and revised to ensure they are in conformance with New York State standards. Kapica will apply to New York State's Department of Criminal Justice for accreditation. If accredited it will mean that the SHPD has satisfied 132 State standards which are the basic elements for rules and procedures. "It is an important recognition for it shows the Police Department has met State standards," he noted. In Greenburg Chief Kapica moved that Department to accreditation and then five years later it was reaccredited. In addition to Sleepy Hollow neither the Tarrytown nor the Irvington Police Departments are accredited although both Village's responded to telephone calls and stated that they are working towards it.
Police standards have to do with arrest procedures, use of force and virtually everything else a police officer would use in his or her career, according to Kapica. When asked what he specifically inherited in the Department, Chief Kapica said, "Well, they tried to do this work back in 2005 and so it will be somewhat easier. I think most of the people here are determined to do their job and that the police officers have done their best to provide services to their constituents. That's very encouraging," he stated. He then went on to address other less than proud moments within the Department. "I think there have been some issues here that have been demoralizing and have created a perception within the Police Department that there are some people who shouldn't be here — that they don't treat people properly," he added.
"We have to improve our image and reach out to get more public input from the community as to the functioning of the Police Department. We have to see what's important to the people and improve in the areas where there is definitely a need for improvement," Kapica said. He has taken these ideas one step further by meeting with Sleepy Hollow's Village Administrator. Kapica has recommended a Village-wide committee that would meet with him periodically to discuss issues that they may have with his Department. He realizes there are many different neighborhoods within the Village and his experience has shown him that there are also different needs within those neighborhoods. "I welcome conversation between the people and the police. I want them to get to know us better so we are not just a face in a police car. I think this is definitely a step in the right direction to improve our image and to show residents we are a group of dedicated people," he said.
This publication contacted Greenburgh Supervisor Paul Feiner for comments on his former Chief. According to Feiner John Kapica was his own man and not beholden to any political party. In short, no elected officials would be able to direct Kapica for their own political gains, Feiner noted. That comment seems particularly refreshing in light of Sleepy Hollow's current climate.