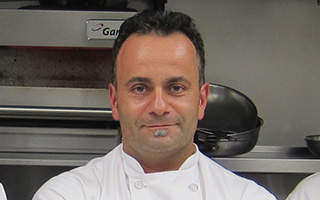 Sleepy Hollow resident and Executive Chef, Giuseppe Fanelli, will be competing on the Food Network show, Kitchen Casino. The episode will air this Sunday night, June 1st at 11 pm and again Saturday, June 7th at 5 pm. Giuseppe applied to Kitchen Casino from an ad posted on Craigslist. His episode was taped in January and was an all day, all night intense taping.
"Kitchen Casino" pits four talented chefs in a high-stakes game in three rounds of gambling-themed challenges — slots, roulette and poker. Each round the chefs are given odd ingredients and other criteria to produce a certain themed dish.  In addition, to other wrenches thrown into the mix.  The food prep and cooking require high levels of skill, speed and adaptability in a test to win up to a $30,000 prize.
Host Bill Rancic leads the contestants through the casino-style culinary competition and each round is critiqued by an array of judges.
As a teenager, Giuseppe Fanelli waited tables at night while learning the ropes of his father's stone masonry business by day. One evening, the chef called on Fanelli to fill in on the line for an injured cook and that experience led Fanelli to leave stone masonry behind to attend culinary school. After graduation, he cooked aboard the Delta Queen Steamboat along the Mississippi River and later moved to New York to cook at such high profile restaurants as Felidia, Rao's, Baldoria, and Union Pacific.
Currently, he is the Executive Chef at Tre Dici in the Chelsea section of Manhattan (128 W. 26th St) where he honors his culinary heritage by featuring herbs and vegetables pulled from his father's garden and olive oil from his uncle's grove in Puglia, Italy.
Tune in to the Food Network (Cablevision channel 29) on June 1 and June 7 to support Giuseppe Fanelli, a local resident!