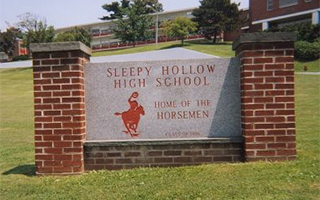 Sleepy Hollow High School student Austen Paris recently received the Acorda Scientific Excellence Award for his research paper and unique scientific study. As part of receiving the Acorda Scientific Excellence Award, he has been featured on AM 1230 WFAS, where he spoke about his project.
An avid downhill mountain biker, Austen was always drawn to the sport's competitive nature and the constant drive for self-improvement and progression it demanded. Between riding and working at a bike shop in Dobbs Ferry, Austen noticed that many bike designs compromised certain areas of performance—speed, efficiency, braking, comfort—so he set out to build a better mountain bike.
For his research project, Austen used bicycle design software to map out existing models of suspension systems and quantify their performance through various computerized tests. Working at The Cooper Union in New York City, Austen then used that software to design a custom new suspension system model that would address the issues found in his data. Austen found that his new design could allow for a more efficient and confidence-inspiring ride across the board while only fractionally increasing the bike's weight. In software tests, his new design held up admirably, and soon after Austen produced a full-scale, aluminum prototype that will undergo a series of real-world tests to confirm the software data and help him continually refine his design.
Austen has already applied for a patent on his new bicycle suspension system, but he doesn't see his innovation stopping there: Austen believes that his design could be implemented in vehicles of all kinds to help improve ride quality and efficiency.