Kathryn Wasserman Davis—a 104-year-old philanthropist from Westchester County who still kayaks on the river—and Westchester County Executive Robert P. Astorino hosted a ribbon cutting today to mark the completion of renovations of a derelict bathhouse at Kingsland Point Park in Sleepy Hollow. The Westchester County-owned facility has been transformed into a modern center for education and recreation. Also joining the celebration were key supporters of the project, including Westchester's Deputy County Executive Kevin Plunkett, Westchester County Parks Commissioner Kathleen O'Connor, Director of the Northeast Land Trust Consortium of The Pew Charitable Trusts Thomas S. Curren and prominent area philanthropists who generously contributed to the renovations.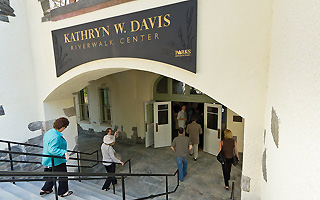 Mrs. Davis pledged $4 million in June 2007 through the Diana Davis Spencer Foundation and the Shelby Cullom Davis Charitable Fund to Scenic Hudson to fund the renovations, which have restored the historic riverfront gathering place, after decades of decay, for the Sleepy Hollow community, regional residents and visitors. The bathhouse is being named the Kathryn W. Davis RiverWalk Center. The project rehabilitated the 1926 building's exterior and interior as well as a pavilion that again is available for community events.
The project also includes, on the building's main floor, an environmental center generously funded by John and Constance Curran.
Improvements to the picnic pavilion and an outdoor learning area were generously underwritten by Lucy Rockefeller Waletzky.
The New York State Department of State (DOS) provided a grant for $78,750 to the Village of Sleepy Hollow for preliminary architectural design efforts.
Westchester County Parks and the Friends of Westchester County Parks collaborated with the contractor on both interior improvements and landscaping around the center. The bathhouse's unique Spanish Renaissance style architecture was retained with the modernization.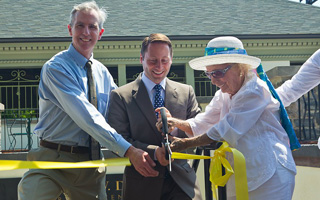 County Executive Astorino said, "The Kathryn W. Davis RiverWalk Center is a wonderful example of just what can be accomplished when the private and public sectors come together. I thank Mrs. Davis, who spotted a rundown old building from her home and took on the mission of restoring it to what we have today. I look forward to this very special place becoming a bustling education center and a hub for recreation on the river."
Mrs. Davis said, "Today's story is really about partnerships, which are required to get important things done. I applaud each person and organization that has participated in this wonderful effort. I'm enjoying a love affair with the Hudson that began 80 years ago. Restoring this building to connect children and families with nature—and to teach them to be good stewards of the environment—fills me with joy. I thank Scenic Hudson and Westchester County and the other supporters for working together to bring this project to fruition. I am delighted to have my name associated with this wonderful new river center."
Scenic Hudson President Ned Sullivan said, "It's a tremendous thrill to be dedicating this newly renovated facility. Mrs. Davis remains a powerful inspiration and visionary whose generosity has remade this landmark as a community center on the banks of the Hudson. Her passion and giving spirit along with the efforts of our other partners have enabled Scenic Hudson to realize this victory in our work to save land, create parks, boost the regional economy and enhance quality of life in valley communities. I also want to thank John and Constance Curran, Lucy Waletzky and the other donors who generously supported this project—including David Swope, Maarten and Claudia van Hengel, George and Rachel Gumina, and Clare Pierson."
He added, "I also want to commend Tom Curren and The Pew Charitable Trusts for providing Scenic Hudson a zero-interest loan that enabled us to move forward with the project based on the Davis family pledge."
Mrs. Davis pledged funding for the project in the form of a bequest. So that the renovations could move forward right away, Scenic Hudson provided the money through a zero-interest loan from The Pew Charitable Trusts so the work could be done during Mrs. Davis' lifetime.
Speaking at the time of the loan, Rebecca Rimel, president and CEO of The Pew Charitable Trusts, said, "Kathryn Wasserman Davis is truly inspirational and has been a leader in protecting the Hudson Valley's stunning landscapes and its unique history. Pew is thrilled to partner with such an important philanthropist and support her efforts with Scenic Hudson to preserve and revitalize this true American jewel."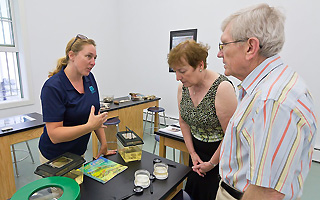 "This project is a shining example of how New York's communities can benefit when state and local government works together," said DOS Deputy Secretary George Stafford. "I am pleased that the department's Environmental Protection Fund Local Waterfront Revitalization Program provided the village with the necessary funding to explore the adaptive reuse of its historic bathhouse. This reuse gives new life to the Hudson River for generations to come."
Sleepy Hollow Mayor Ken Wray commented on the importance of the new center to Sleepy Hollow. "Mrs. Davis and all the partners and supporters have given Sleepy Hollow an extraordinary gift. Restoring this classic building provides a beautiful gathering place people will enjoy for many, many years. Once again our community offers a starting point for people to get in and on the Hudson and to study this majestic river."
The bathhouse renovations were done by Showcase Construction, an award-winning historic preservation company of Suffern, Rockland County. Approximately 35 workers were employed during the project. Architectural services were provided by Jan Hird Pokorny Associates, of New York City, acclaimed for their work on historic buildings.
In addition to her support of the bathhouse renovation, Mrs. Davis also pledged through the Kathryn W. Davis Foundation and the Shelby Cullom Davis Charitable Fund $1 million to help create a park in her hometown of Tarrytown. Scenic Hudson contributed an additional $1 million while Westchester County, the Village of Tarrytown, developer National REsources and New York State contributed funds to the project. This park is slated to open this summer.
All photos – Robert Rodriguez, Jr.