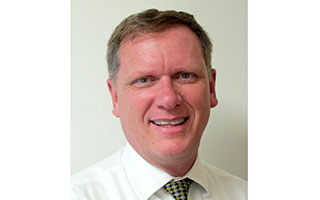 Tim Wages of Maywood, New Jersey, has joined Phelps Memorial Hospital Center as Senior Director of Ancillary Services with responsibility for cardiovascular and pulmonary services, respiratory care services, hyperbaric medicine, the Sleep Center and the Blood Gas Lab.
At right, Tim Wages of Maywood, New Jersey, has been named Senior Director of Ancillary Services at Phelps Memorial Hospital Center in Sleepy Hollow, NY.
Wages has 28 years of nursing experience, including significant experience as an intensive care and post-anesthesia care unit nurse, and has worked in nursing and managerial positions for cardiac catheterization labs, electrophysiology labs and interventional radiology services.  Most recently, he served as nurse manager of interventional cardiology at St. Luke's- Roosevelt Hospital in New York City.  Prior to that, he worked as nurse manager of interventional cardiology at Good Samaritan Hospital in Suffern.
Wages began his career at Graham Hospital School of Nursing in Canton, IL, as a diploma graduate. Since that time, he has completed a BS in management from Lesley College in Cambridge, MA, and a BSN and an MSN at Thomas Edison State College in Trenton, NJ. He is board certified as a nurse executive.
Phelps Memorial Hospital Center is a 238-bed acute care community hospital in Sleepy Hollow with more than 1,700 employees and 500 medical staff members representing 60 medical specialties. Phelps offers one of the broadest ranges of community hospital services in Westchester. Patients benefit from distinguished physicians, many of whom are pioneers in their field, offering the most advanced procedures using the latest technology. www.phelpshospital.org. Phelps' multispecialty medical group, Phelps Medical Associates, has 14 practice locations on campus and in the surrounding communities. www.phelpsmedicalassociates.org.