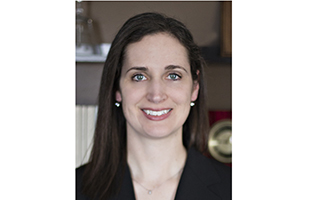 Cameron Budenz, MD, of Elmsford, has joined Phelps Memorial Hospital Center as Medical Director of the Balance Center. Dr. Budenz is a neurotologist (ear, nose and throat physician who specializes in disorders of the ear) and a skull base surgeon. She has expertise in the treatment and management of imbalance and dizziness, acute and chronic ear disease, hearing loss and facial nerve disorders. As a skull base surgeon, she is able to remove growths or abnormalities at the interface between the ear and the brain that may be associated with dizziness and hearing loss.
Dr. Budenz is an assistant professor in the department of otolaryngology at New York Medical College and has served as an instructor for courses that are attended by surgeons from around the world. Dr. Budenz received her medical degree from the University of Michigan Medical School, followed by a surgical internship and otolaryngology residency at New York University.  After residency training, she completed both a National Institutes of Health-funded research fellowship and a clinical fellowship in otology, neurotology and skull base surgery at the University of Michigan. She can be reached at 914-366-1170.
Phelps Memorial Hospital Center, part of the North Shore-LIJ Health System, is a full-service 238-bed acute care community hospital located in Sleepy Hollow, NY. With more than 1,700 employees and 500 medical staff members representing 60 medical specialties, Phelps offers one of the broadest ranges of community hospital services in Westchester County. Patients benefit from distinguished physicians, many of whom are pioneers in their field, offering the most advanced procedures using the latest technology. www.phelpshospital.org. Phelps' multispecialty medical group, Phelps Medical Associates, has nearly 20 practices located on the hospital campus and in the surrounding communities. www.phelpsmedicalassociates.org.