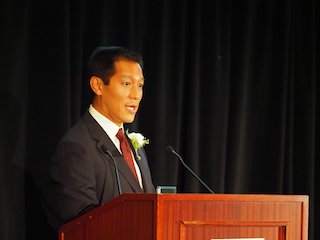 After more than 17 years of treating underserved and low-income patients in need, Open Door Family Medical Centers' Chief Medical Officer Dr. Daren Wu has received a Doctors of Distinction Award, which recognizes excellence in Westchester County's medical field. Dr. Wu was presented with the "Caring for All" award, which honors a physician who refuses to turn patients away and focuses on providing the best care possible to all patients. The annual Doctors of Distinction awards are presented by Westfair Communications.
Photo by Westfair Communications
"It's an award that really belongs to the Open Door team," Dr. Wu said during his acceptance speech at the Doral Arrowwood in Rye Brook on Sept. 20. "Without the men and women of Open Door, we wouldn't be able to take care of tens of thousands of some of the most vulnerable patients here in Westchester County." Dr. Wu embodies the ideals celebrated in the "Caring For All" Award, his colleagues said, and he demonstrates his belief in all people having access to quality health care each day. He is also a practitioner of longitudinal care, treating multiple generations of patients and getting to know them well, allowing him to provide meaningful and effective care.
Dr. Wu is committed to treating the whole person, not just symptoms or ailments. This approach has strongly influenced Open Door in providing coordinated, prevention-oriented, patient-centered care that gives low-income patients every opportunity to take control of their health.
Under Dr. Wu's direction, Open Door invests in proactive wellness, a healthful state of being in which every patient has the opportunity to eat nutritious foods, exercise, manage stress, address their mental health and behavioral health issues, and learn how to take better care of their bodies and minds.
Dr. Wu has also led the organization in implementing fully coordinated care as a cost-effective method for improving patients' health. Open Door's Care Coordination and Patient Advocacy Program "connects the dots" between various components of healthcare, giving every patient personalized support and advocacy to address all their needs under one roof, and often in a single visit. As part of his commitment to the patients he serves, Dr. Wu became a proficient speaker of Spanish, adding to his capacity to earn patients' trust and serve their needs.
Prior to joining Open Door, Dr. Wu received his Bachelor of Arts from Columbia University in New York City before graduating from SUNY Stony Brook School of Medicine. He completed his internship and residency in the Columbia Presbyterian Hospital of New York. Dr. Wu set out on a path for a life of community service and joined Open Door in 2001. He began his career with the organization by providing clinical care to patients at Open Door's facility in Mt. Kisco, where he helped build the small clinic into a full-scale health center.
Thanks to his clinical and communication skills, leadership abilities and forward-thinking approach, Dr. Wu was named Chief Medical Officer in 2005. In this position, Dr. Wu is the senior clinical leader and oversees the quality of clinical care and service delivery at each of Open Door's facilities. He also directs the recruitment and review of physicians and healthcare workers and interfaces with affiliated hospitals. Despite the advancements his career has seen, Dr. Wu maintains an active role in providing direct patient care. He allocates roughly 30 percent of his workload to patient care.
In addition to his work with Open Door, Dr. Wu is a Family Medicine Preceptor for students from New York Medical College in Valhalla and Columbia Presbyterian College of Physicians and Surgeons. He is also a founding faculty member of the New York Medical College – Phelps Hospital Family Residency program, based in Open Door's Sleepy Hollow facility. He is also a Lieutenant Commander in the U.S. Navy Reserve.  More information about Open Door Family Medical Centers is available at: www.opendoormedical.org.