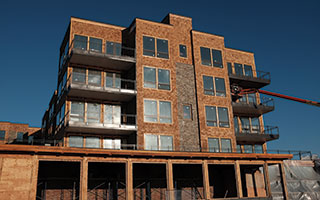 On the Sleepy Hollow, Tarrytown border lies a waterfront property that many have known over the years as the Castle Oil facility. But this industrial way station is no more.  What has been rising out of the ground over the past several months, is the newest addition to Hudson Harbor's growing community and the first new development to happen in Sleepy Hollow in years. It is named the River House.
At right, the River House will be 56 homes, 16 of which will be a part of the "luxury collection." Completion set for Spring 2015.
The Hudson waterfront is no stranger to industry. Once a vibrant hub of activity, Tarrytown and Sleepy Hollow's rich industrial past came to an abrupt halt when the likes of General Motors and County Asphalt ceased production and moved their facilities offshore. This left the waterfront run-down and abandoned for years. Only very recently, have developers begun to be drawn back to the River, devising plans for creative and innovative re-use.
For developer National Resources, reclaiming old industrial buildings has always been at the heart of the organization, and Hudson Harbor is a prime example. With their latest phase of construction, Hudson Harbor will attempt to expand upon its success in repurposing what was once a deserted and derelict parcel of land.
Building upon several successful phases of development, National Resources believes that with the River House they have truly come as close as ever to perfecting their vision of waterfront life. In an interview with Hudson Harbor's Alicia Goldman, she articulated the core concept behind this new luxury community."The core focus of what we have tried to achieve here is all about a new way of living: 'the way we live today.'  Societal trends have been steadily changing over the past decade; however the majority of the housing market is still lagging significantly behind. What we set out to create here with the River House, is a community which not only levels the playing field between these societal and housing trends, but takes one large step beyond that and into what we believe is the next decade of change within the home. The way we live today is about less. It is about a holistic approach to a luxury life, which, instead of overwhelming the senses, tactfully addresses each one without excess. It is very much about the River and beauty of nature. We owe so much to our surroundings here in the Hudson Valley, and the positive affect they can have on us, when a home is designed to truly let them all in, is profound.
"Of course, resort-style amenities and boutique hotel-style services will play an active role in simplifying the daily lives of our residents. The beautiful river towns of Sleepy Hollow and Tarrytown, which are bathed in so much history, only help to bolster the lifestyle we are creating here.  Then you have, of course, the train, local restaurants, entertainment and shops, public parks and recreation space, and all of this without needing access to a car.
"It is about living with less, but experiencing more. More greenery, more tranquility, more peace of mind, more fulfillment. This is the direction in which we believe the world is heading."