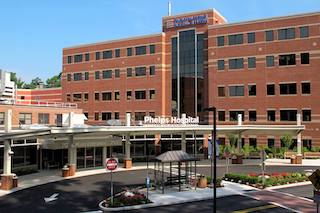 Hospital food is notoriously bad, right? Not if the hospital is Phelps in Sleepy Hollow or Northern Westchester in Mt. Kisco. Both are part of the Northwell Health system, which just retained Andrew Cain as executive chef.
Cain, a Michelin star chef from the Fairmont Mission Inn and Spa in Sonoma, California, has established a national culinary reputation for his ability to turn regional foods into flavorful and aesthetically exciting dishes.
Cain was recruited by Northwell Health VP Bruno Tilson, who preceded Cain as executive chef at Fairmont Sonoma. They worked well together and also joined forces to prepare a Sonoma-centric menu at New York City's celebrated James Beard House in 2015. When the executive chef position at Northwell's Westchester hospitals opened up, Tison knew just whom to call.
After spending nearly 25 years in high end restaurants and resorts, Cain was ready for a change that would make his work more meaningful. "I am now able to cook for people who need and deserve thoughtfully crafted cuisine," he said. "Northwell is leading the health care industry with initiatives to improve the quality of the food that they serve to their patients; they are committed to changing what food in health care can be."
Beneath his culinary skill, which he has honed to an art, Cain has an understanding of the importance and value of collaborating with everyone in the kitchen—from sous chefs to assistants—on menu selections, recipe creation, and general kitchen operations. His first move as executive chef for Northwell will be to streamline kitchen operations at the two hospitals. Once that is accomplished, he will turn his attention to improving cooking techniques, recipes and menu design.
We asked Chef Cain to describe for our readers his overall philosophy about food, its preparation, and its role in American culture.  "Food and culture are intertwined," he said.  "Food is one of the few things that can bring people of all cultures together.  My philosophy in regards to food and its preparation is simple.  Start with the best ingredients, cook with the best techniques and put love and passion into the cuisine."
What is his favorite dish to cook? "Asking me what is my favorite dish to prepare is like asking an artist what is his favorite color of paint to use," Cain replied.  "My favorite dish to make is the one I am working on in the moment.  From there I move on to the next, not forgetting about the former."
Cain says that he is honored to work in what he calls the "noble environment" of Phelps Hospital and Northern Westchester Hospital. He has always held health care professionals in high esteem. That's a good thing, because at this point in his stellar career, he has become one.