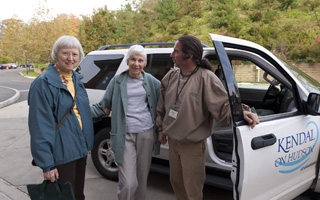 Kendal on Hudson will be named as Organization of the Year by The Foundation for the Public Schools of the Tarrytowns at the Foundation's Annual Dinner Dance & Auction on March 31st. The relationship with the Tarrytown Schools began in 2003 prior to the ground breaking of Kendal on Hudson. The founding residents wanted to insure from the very beginning that education for all children living in the villages of Sleepy Hollow and Tarrytown was to be valued and set as a high priority. Kendal residents together with The Foundation for the Public Schools of the Tarrytowns, parents and students would support educational programs and work together.
The intergenerational program formally began in 2008 when a group of residents met with Howard Smith, teachers and administrators to discuss areas where students and residents could come together to create mutually beneficial programs.
Since that meeting, a book club was formed with high school juniors and seniors and residents; a joint chorus concert was held at Kendal; current events discussion groups with high school students and residents are held quarterly on Friday afternoons; and most recently, a new intergenerational initiative was a Memoir Study with residents and 3rd-5th grade English Arts Enrichment students at Washington Irvington School. The project had 60 students participating who had chosen a time period of interest and researched it enough to be able to imagine themselves part of it.  Students, parents and teachers came to Kendal one evening this past January where students presented their projects and spoke eloquently on the selected stories.
Kendal on Hudson is proud to be honored by The Foundation and continues to strive for an intergenerational program beneficial to residents and students for now and for the future.