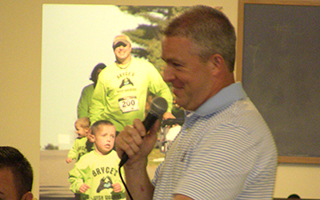 On Monday July 21st, JP Doyle's Public House & Restaurant in Sleepy Hollow, NY held there 15th annual Golf Outing to benefit Make A Wish of the Hudson Valley at St. Andrew's Golf Course.  With the generosity of the participants, and those that just came to the dinner at the James E. Galgano Center in Sleepy Hollow, the event was able to raise in excess of $23,000.00 this year.
At right, Brian Doyle.
Nick Bell and Brian Doyle, in addition to Tom Conklin, CEO of Make A Wish Hudson Valley, would like to thank everyone for making this event such a success and they look forward to next year's outing.
"Make-A-Wish® grants the wish of a child diagnosed with a life-threatening medical condition in the United States and its territories, on average, every 38 minutes. We believe that a wish experience can be a game-changer. This one belief guides us. It inspires us to grant wishes that change the lives of the kids we serve." For more information, visit http://hudson.wish.org/